Keiko with slight lead over Kuczynski ahead of Peruvian presidential runoff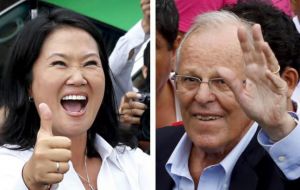 Peruvian presidential contender Keiko Fujimori has a slight lead over rival Pedro Pablo Kuczynski ahead of the June 5 run-off election, according to a poll published on Sunday. The two pro-business candidates emerged from a first round election on April 10.
The latest Ipsos poll, published by daily newspaper El Comercio, showed Fujimori with 42% support compared with Kuczynski's 39%. It also showed 14% of respondents were either undecided or planned to leave their ballots blank.
President Ollanta Humala's term ends on July 28 and the two candidates vying to succeed him have both promised to boost growth through infrastructure spending
.
Center-right former congresswoman Fujimori, the 40-year old eldest daughter of imprisoned ex-president Alberto Fujimori, faces stiff opposition from detractors of her father's authoritarian government but enjoys the backing of his admirers.
Kuczynski, a 77-year-old former prime minister, is popular in the capital, Lima, especially among young people and the country's upper classes, but he lacks strong support in rural areas.
The Ipsos poll surveyed 1,813 people between May 4-6 and has a margin of error of plus/minus 2.3 percentage points.