Sixth consecutive Chile Day in London; Bachelet/Cameron discuss closer political and cooperation links
Saturday, May 14th 2016 - 08:34 UTC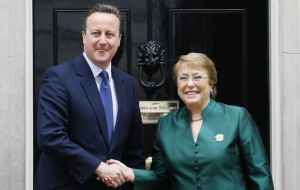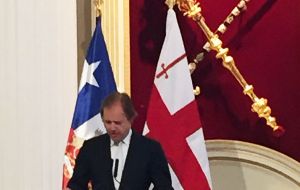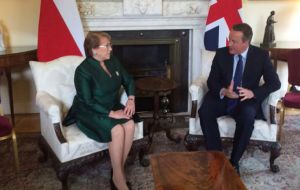 The UK was proud to host the sixth consecutive Chile Day in London, as a major international showcase for Chile's financial market. The event is attended by business leaders from both Chile and the UK, and this year President Bachelet made a very special appearance during her two-day visit including meeting PM David Cameron at 10 Downing Street.
Minister of State for the Americas, Hugo Swire, closed the Chile Day event with a speech underlining the strong UK-Chile relationship.
"Chile is an important bilateral and international partner for the UK in many areas, including peacekeeping and on global security interests. We worked closely together on Syria during Chile's UN Security Council membership and chairmanship last year, and were proud to support Chile's initiatives on women's and LGBT rights in the Human Rights Council", pointed out Hugo Swire.
The minister added that the UK/Chile partnerships have gone from strength to strength and "We are working together on science and innovation through the Newton-Picarte Fund. Both countries are also supporting projects in renewable energy and green finance, as well as sustainable mining, ocean issues, disaster prevention and environmental governance, and believe there is potential for further business links".
President Bachelet was in London as part of a Guest of Government visit. The visit included talks between the President and the Prime Minister at 10 Downing Street, as well as discussions with a number of other Ministers. The talks focused on a number of topics, including trade and investment, as well as science and innovation as drivers of economic growth.
Following the meeting with PM Cameron, a Downing Street spokesperson said the two leaders reaffirmed the historic significance and strength of the bilateral relationship, and expressed a commitment to deepen these ties further.
The Prime Minister updated the President on the success of the Anti Corruption Summit held in London and President Bachelet expressed her support for this agenda.
The two leaders addressed economic and scientific co-operation including ways in which the UK and Chile can collaborate on research in the Antarctic as well as strengthen the Antarctic Treaty System. They agreed that there were significant opportunities to work together on the diversification of the Chilean economy, in particular the modernization of the mining sector.
On education, both leaders welcomed the strong ties between the two countries, which was supported with the Memorandum of Understanding on mutual recognition of qualifications will build upon.