China's leading role in Argentina reviewed and confirmed by Macri
Tuesday, August 2nd 2016 - 06:07 UTC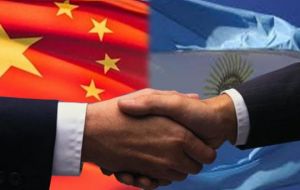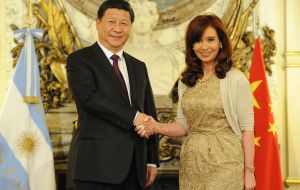 China's role in Argentina's foreign relations will be more balanced than during the Kirchner administrations, with a larger role played instead by the United States and European countries, the country's ambassador to Beijing Diego Guelar said, claiming Chinese investment will have to be more competitive.
"China's role will be growing but more balanced. Argentina's historic allies were always Latin America, the US and Europe. But that's now changing. The challenge ahead isn't to minimize China's role but instead to give more room for the US and Europe," Guelar said. "The fact that we relate with China makes it more attractive for US firms to come."
Argentina's diplomatic relations with China were upgraded to "strategic integral alliance" status in the president Cristina Fernandez de Kirchner administration, who exchanged visits with President Xi Jinping and inked deals on culture, technology, energy, economy and central bank swaps to prop the Argentine currency.
Nevertheless, the more than 20 deals signed by CFK with China were questioned by president Mauricio Macri, claiming they were filled with irregularities — specially the Nestor Kirchner and Jorge Cepernic hydroelectric complex in Santa Cruz. The initiative was first put on hold due to growing environmental concerns but then confirmed by the government.
"During the last few years, the deals with China were made without a proper tender process. But now Chinese investment will have to be more competitive and at lower interest. The main objectives for the next 10 years will be competitive bids, cheaper financing, a growing role for private Chinese investment and a growing tourism," Guelar said.
"There's no contradiction in having a closer relationship with the US and Europe, as China is also their main partner. There are plenty of opportunities for everybody," he added.
Argentina and China have an asymmetric trade relationship, something acknowledged by the two administrations and one of the challenges highlighted by Guelar. Argentina registered last year a US$5 billion deficit in bilateral trade with China. Exports to China totaled almost US$5 billion, while imports hit US$10 billion, a sizeable disparity.
Today, 96% of Argentina's export basket consists of primary or manufactured products based on natural resources, while it imports a diverse array of low, medium and high technology manufactured products.
"China is our main energy and financial partner. They financed projects worth US$25 billion in Argentina, including dams, nuclear and solar energy, rail works, an aqueduct, a pileline and road works," Guelar said. "The energy model of Argentina for the next 20 years will be closely linked to China, without excluding anybody."
As well as the dams in Santa Cruz, Argentina and China signed deals to renovate the fleet of trains and the state-run Belgrano Cargas network, to build two nuclear power stations Atucha IV and Atucha V, to build two pipelines in Córdoba, to build an aqueduct in Entre Ríos and to develop solar energy projects in San Juan and La Rioja. Argentina also leased land for a satellite tracking station in Patagonia, which has been questioned by the United States.
Another objective cited by Guelar is to increase the number of Chinese tourists in Argentina. In order to do so, he said the long-term objective is to eliminate the requirement of a visa, which could allow Argentina to welcome up to one million Chinese tourists per year — a "reasonable" goal considering the 200 million who will be travelling around the world in 2020.
"We have to increase the number of flights and improve our tourist structure if we want to reach that goal," he said. "The Chinese tourist spends twice as much as the one from the US or Europe. That is why in no more than 10 years we have to eliminate the visa with China. We have to discuss that."
Guelar said steps in that direction are already being taken such as not asking for visa of those Chinese citizens who already have a US or European visa, something agreed to by the Macri administration last week. But that is only the initial step before "plainly eliminating visa requirements" for Chinese citizens, he said.
"Last year there were 120 million Chinese citizens that travelled because of tourism around the world. That figure would reach 200 million in 2020. We only welcomed 25,000 Chinese tourists last year," he said. "We have a 10-year history with China and it is a new strategic partner. We can easily progress towards the elimination of the visa"