Venezuela and Iran announce new "dynamic bilateral relations"
Monday, August 29th 2016 - 04:11 UTC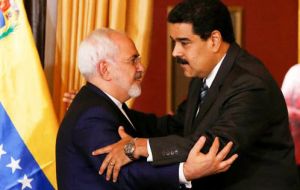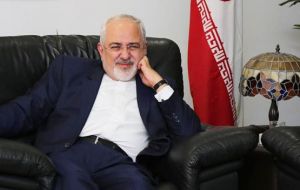 Venezuelan President Nicolas Maduro named Chief General Jesus Gonzalez as the country's new ambassador to Iran on Saturday, while announcing the beginning of a new dynamic era in Caracas-Tehran bilateral relations.
Maduro made these announcements at a Caracas meeting with Iranian Foreign Minister Mohammad Javad Zarif, who arrived in the country sooner than expected on the final leg of his South American tour, after having visited Cuba, Nicaragua, Ecuador, Chile and Bolivia.
"We are advancing in our bilateral cooperation as well as in matters of mutual interest for economic development ... we are going to create a new dynamism in Venezuela-Iran relations," said the Venezuelan leader, who later announced the creation of a special commission to follow up on their bilateral deals.
Maduro also said that Venezuela and Iran continue to seek consensus on ways to stabilize oil markets and strengthen OPEC.
"We continue to build common ground and a new consensus on stabilizing oil markets, strengthening industries, strengthening OPEC," underlined Maduro in a ceremony broadcast on state television.
He said Venezuela's oil minister and foreign minister would make announcements in the coming weeks, but did not provide details on concrete actions.
Central bank authorities from the two countries also signed an agreement on financial matters and issued a joint declaration to "strengthen links," the Venezuelan Foreign Ministry said in a tweet, without revealing details.
Caracas foreign affairs chief Delcy Rodriguez said the meeting was attended by a ministerial delegation spanning different areas and added that the two countries are working to "continue strengthening" strategic alliances.
Zarif, in turn, expressed Iran's interest in deepening and broadening cooperation with Venezuela and other Latin American countries. He said he was glad to consolidate the economic ties between Caracas and Tehran, which have enjoyed friendly relations based on the independence and resistance of their respective peoples.
In June 2015, the Venezuelan government and a high-level delegation from the Islamic Republic of Iran inked six deals on scientific, technological, economic and health cooperation.