Strong support for Temer and his government from China
Friday, September 2nd 2016 - 16:44 UTC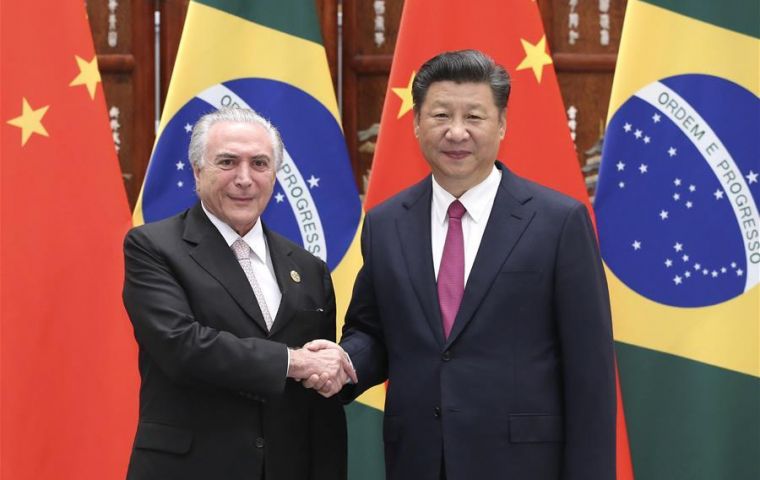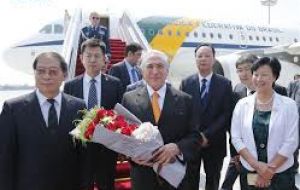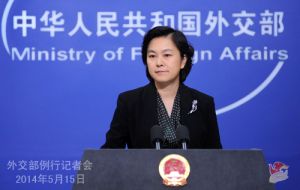 Brazil's new president Michel Temer received strong support from Beijing when Chinese president Xi Jinping expressed confidence in Brazil's ability to maintain stability and cooperation between the two countries, during a meeting on Friday with Temer in Hangzhou, the resort that will host the G20 summit
"China has great confidence in Brazil's development prospects, as well as confidence in cooperation between China and Brazil" said Xi, adding that "we must continue to treat each other as partners in development and strengthen cooperation, and make China-Brazil cooperation a highlight in unity and cooperative relations between developing countries."
Temer told Xi that he wanted to reiterate "the need to maintain the solid relationship that has been built up over time".
Brazil and China are both in the BRICS group of emerging economies that includes India, Russia and South Africa.
Earlier in the day Temer made his international presidential debut when he addressed a business forum in the Chinese commercial hub of Shanghai.
"Although we suffered from political and economic upheaval, as well as economic downturn, this page has been turned," Temer said in his speech on Friday "Brazil has put all the economic and political instability it suffered in the past few years behind us."
Temer also met with Chinese entrepreneurs in Shanghai on Friday morning and assured those who have signed deals that they will be "well protected" by its law.
In a meeting with Shanghai mayor Yang Xiong, Temer witnessed the signing of nine agreements covering projects from infrastructure to agriculture and said that China was now "Brazil's most-needed cooperative partner." Brazilians "need China's support, we need China's cooperation," he added.
On Thursday before Temer arrived in Shanghai, the Chinese government had anticipated it trusted Brazil could retain national stability and a development and continue playing a significant role in regional and international affairs.
"China and Brazil are emerging markets, we are strategic partners and our relations have grown in recent years" said Foreign Affairs spokesperson Hua Chunying adding Beijing has confidence in Brazilian institutionalism.