Gibraltar celebrates National Day defiantly:"if Brexit means Brexit, then British means British"
Monday, September 12th 2016 - 06:52 UTC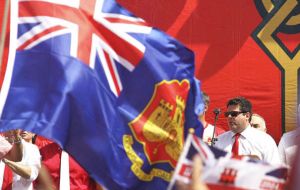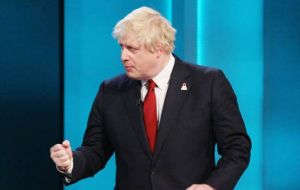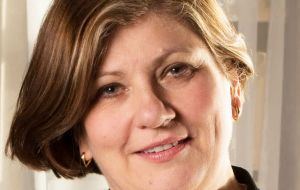 Gibraltar's Chief Minister Fabian Picardo sent a firm message on Saturday, 10 September, the Rock's National Day, which was accompanied by strong support messages from the UK and a visiting delegation of MPs from all parties in Westminster
"If Brexit means Brexit, then British means British", said CM Picardo and added "if anyone thinks that we are going to sell our homeland for access to Europe, they don't know the Gibraltarians," which was received by a rapturous applause from the Casemates audience.
"Look up at our beautiful Rock," he told the crowd. "That is our backbone. I don't see a 'For Sale' sign anywhere on it." Those who keep talking about taking our sovereignty "just don't get it", Picardo said in clear reference to the current Spanish conservative government.
"We have told them that hell will freeze over before Gibraltar becomes Spanish. And they don't get it", and "we have told them that they need to wake up and smell the coffee. Gibraltar will never be Spanish. And they don't get it."
"We have told them that no means no. And still they don't get it," Mr Picardo said. "Well let me put it in terms that even they might understand, if Brexit means Brexit, then British means British. No means no. Never means never. Gibraltar is British forever."
CM Picardo then read a message from UK Foreign Secretary Boris Johnson reaffirming Britain's double-lock sovereignty commitment to Gibraltar.
"On this Gibraltar National Day, I want to emphasise my resolute support for Gibraltar and its people," Mr Johnson's message said.
The Rock was again full of red and white for the National Day celebrations as thousands crammed into the square and adjacent streets for the traditional political rally.
There were 21 UK MPs at the rally this year, representing the spectrum of UK politics. One by one, a representative from each major UK political party took to the stage to address the crowd and reaffirm the support that Gibraltar enjoys in the Commons in defence of its right to self-determination. However there were surprises.
Jack Lopresti, the Tory MP who chairs the all-party parliamentary group on Gibraltar in the House of Commons, was booed when he addressed the crowd and defended the UK's decision to leave the EU.
Britain's shadow Foreign Secretary, Labour's Emily Thornberry, also sent a message to CM Picardo reaffirming her party's defence of Gibraltar's right to self-determination.
"We know that you may now face challenges with your neighbours," Mrs Thornberry wrote in the letter. "Labour fully backs the self-determination of the people of Gibraltar."
"We fully support the double lock concept by which the United Kingdom makes clear it will never enter into arrangements under which the people of Gibraltar would pass under the sovereignty of another State against your wishes."
"And furthermore, the UK will not enter into a process of sovereignty negotiations with which Gibraltar is not content."
Mrs Thornberry also reflected on the implications of Brexit for Gibraltar and acknowledged the way Gibraltar had voted in the EU referendum last June 23.
"Just weeks after the people of Gibraltar produced a 96% vote to remain in the European Union, from an impressive 88% turnout of the population, it is important that the people of Britain show solidarity as the Rock now faces the uncertainty created by the decision for a 'Brexit'," she said in her letter.
"Gibraltar has a great tradition for social justice and for its loyalty to Great Britain over the centuries through thick and thin."
"I am deeply conscious of the need to ensure that Gibraltar continues to enjoy the benefits and prosperity that it has derived from its membership of the EU through Britain."
"It is important that Britain keeps its doors open to the people of Gibraltar for trade and services so that that 'single market' between us continues."
"Gibraltar should be fully involved in and represented at all negotiations and arrangements which the UK carries out with the EU, to ensure its position within the EU is fully protected."