Ex finance minister of Lula and Rousseff arrested in connection to Petrobras corruption
Thursday, September 22nd 2016 - 15:38 UTC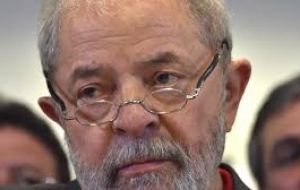 Brazilian police on Thursday arrested Guido Mantega, a former finance minister under presidents Lula da Silva and Dilma Rousseff, as part of the investigation into the vast Petrobras corruption scheme, media reported.However Brazilian Judge Sergio Moro later in the day revoked the temporary detention order citing Mantega's cooperation with a search of his home and his wife's surgery in a Sao Paulo hospital.
Mantega, who was an important figure in the populist Workers' Party, was arrested at a Sao Paulo hospital where his wife had undergone surgery, his lawyer Jose Roberto Batochio told the G1 online news outlet. The arrest also was reported by Folha group's UOL site.
Mantega was finance minister since 2006 until 2015, that is both under the administrations of Lula da Silva and Rousseff.
In a statement, the federal police said its officers were carrying a new wave of arrest orders in the sprawling bribe and kickback scandal involving state oil giant Petrobras, contractors and politicians.
Without naming Mantega, the police said "a finance minister allegedly acted in 2012 together with one of the companies to negotiate the transfer of resources to pay the campaign debts of the political party of the moment."
News of Mantega's arrest came just two days after a judge leading part of the investigation into the scandal accepted charges against Lula for allegedly accepting bribes from a construction company linked to the Petrobras case.
Lula is the co-founder of the once-unstoppable Workers' Party. Its 13 years in power ended last month when his hand-picked successor, Dilma Rousseff, was convicted of budget irregularities in an impeachment trial.
The charges against Rousseff were unconnected to the Petrobras case, but the scandal -- combined with Brazil's worst recession in decades -- did much to bring her down.