Bolivia seeks access to Pacific Ocean via Peruvian por of Ilo
Friday, November 4th 2016 - 22:59 UTC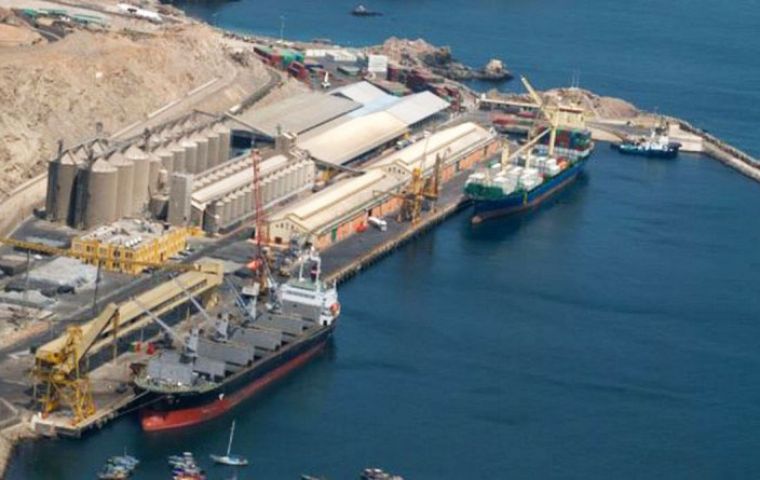 Integration between both countries appears to be on a smooth path after second binational cabinet meeting in Sucre, chaired by Presidents Evo Morales and Pedro Pablo Kuczynski. Railway road to Brazilian port of Santos also on the table
The Government of Bolivia submitted on Friday a proposal to its Peruvian counterpart to strengthen the Peruvian port of Ilo with the aim that in 18 months that terminal is operable to send and receive Bolivian cargo. "It would be a breakthrough," said Bolivian Economy Minister Luis Arce Catacora said. Ilo's development was a part of a special declaration by the joint Peruvian-Bolivian cabinet meeting in Sucre on Friday, chaired by Presidents Evo Morales and Pedro Pablo Kuczynski.
The main issue of this paper is the construction of the railway linking Ilo with Brazilian port of Santos through Bolivian territory. In the case of Ilo, the minister said that a specific statement is required to "make possible the loading and unloading of containers that Bolivia is used to doing in Chilean ports." Arce confirmed that his country aims to have in Ilo "an alternative port for the Bolivian goods," that currently run through northern Chile.
The Morales government has already decided that one of his priorities will be a road and rail integration with Peru, to address the problems faced by Bolivian exporters in Chilean ports. Bolivia was left without access to the Pacific Ocean after losing a war against Chile in the late nineteenth century. Peru which also lost a part of its territory in the conflict.
Bolivia filed a lawsuit before the International Court of Justice (ICJ) in The Hague seeking a ruling that compels Chile to negotiate in good faith their claim for a restitution of its access to the Pacific Ocean in 2013. In recent days, Bolivia has angrily protested a succession of strikes by Chilean officials that has hurt trade through the ports of Chile. Bolivian Attorney General Hector Arce said Friday that his country is considering the filing of an immediate complaint to the World Trade Organization (WTO) in view of the gridlock of truckloads on the border with Chile.
It was also agreed on Friday in Sucre that Bolivia and Peru are to set out a strategic plan for the environmental recovery of Lake Titicaca. "We have fulfilled 10 commitments, including 7 additional actions and are in full implementation 7 more linked to the action plan of Lake Titicaca commitments, environmental and forestry issues and protected areas," the Bolivian Minister of Development Planning René Orellana said.
According to Orellana, the construction of treatment plants, sewage, solid contaminants and discharges waste "require independent attention from each of the municipalities involved." He also highlighted the progress in the "pattern of precipitation and runoff" of the Maure River basin, part of the Titicaca-Desaguadero-Poopó system. He announced a constant monitoring of pollution in the different basins shared within the lake.
"The Peruvian government has already begun to invest millions of dollars to save our sacred Lake Titicaca. Bolivia has for its part secured $ 85 million from Treasury investments and international credit," Bolivian President Evo Morales said. Kuczynski added that plans for the recovery of the Titicaca are positive and that his country "will work to follow up on these agreements."
"In the meeting we had now insisted so much on the subject of Lake Titicaca is a landmark (...) lake. We do not want to warm up with contaminants from drains that pour out there, especially on the side of Peru, we will deal with that, it is a high priority for us, "Kuczynski explained.
Lake Titicaca has suffered in recent years a number of environmental pollution effects, which have affected its natural environment and biodiversity for which the Bolivian government has already signed last October 27, a loan of $ 77 million with the Inter-American Development Bank (IDB) and a grant agreement of $ 8 million with the European Union (EU) which will be used for sanitation projects in Titicaca.
Also at the binational cabinet meeting in Sucre, Bolivian Interior Minister Carlos Romero reported that 14 unauthorized border crossings between the two countries had been spotted thanks to the joint work that both countries have conducted within the framework of the commitments made in the previous Binational Cabinet.
Romero added that Bolivia and Peru will steep up actions to control these passages, since bi-national criminal activities, especially Peruvian cocaine passing through Bolivia to Brazil and other countries are to be found routinely in the media. Meetings between senior military and police officers have already been taking place since the first binational cabinet meeting in Peru.