Canadian PM will pay official visits to Cuba, Argentina and attend APEC summit in Peru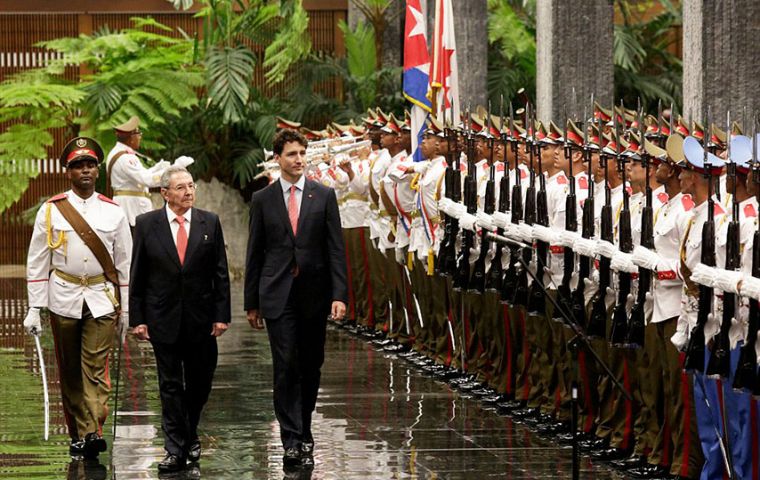 Canadian Prime Minister, Justin Trudeau will pay official visits to Cuba and Argentina from November 15 to 18, and will travel to Peru from November 19 to 20 to participate in the 2016 Asia Pacific Economic Cooperation (APEC) Leaders' meeting.
Canada enjoys strong, long-standing relations with Cuba and Argentina. During the official visits, the Prime Minister will meet with Cuban President Raúl Castro, Argentine President Mauricio Macri, and a number of local business and cultural leaders.
The trip will provide Canada with an opportunity to renew and strengthen its relationships with Cuba and Argentina, and collaborate more closely on sustainable economic growth, inclusive governance, security, climate change, and gender equality.
At the APEC Leaders' meeting in Peru, PM Trudeau will join other APEC leaders to focus on strengthening the middle class, creating economic growth, and facilitating freer trade and investment in the region.
"Cuba and Argentina are two of our closest partners in the hemisphere. I look forward to working with President Castro and President Macri to stimulate more trade and investment with Canada, grow the middle class, and foster closer people-to-people ties for the benefit of all our citizens", PM Trudeau said.
He added that the Asia Pacific region is critical to Canada's economic future and "I look forward to promoting Canada as a partner of choice for trade and investment in the region while embracing the theme of quality and inclusive economic growth that Peru has put forward this year. Peru is a valued partner for Canada in both the hemisphere and the Asia-Pacific region, and I look forward to meeting host President Kuczynski."
Canada and Cuba enjoy a diverse relationship based on 71 years of uninterrupted diplomatic engagement and constructive cooperation in areas including trade and investment, development assistance, security, and tourism. Canada and Argentina enjoy excellent commercial relations and share similar perspectives on many global issues, the promotion of democracy and human rights, international peace and security, nuclear non-proliferation and the sustainable stewardship of the environment. Canadian companies are important actors in the extractives and agro-industrial sectors in Argentina.
The APEC forum was established in 1989 and has become the most important economic forum in the Asia Pacific region. Its primary purpose is to facilitate economic growth and prosperity in the region, with the vision of creating a seamless regional economy. APEC's 21 members are home to 2.8 billion people who generate more than half of the world's GDP, including more than 84% of Canada's total merchandise trade.