Trudeau due in Buenos Aires Thursday morning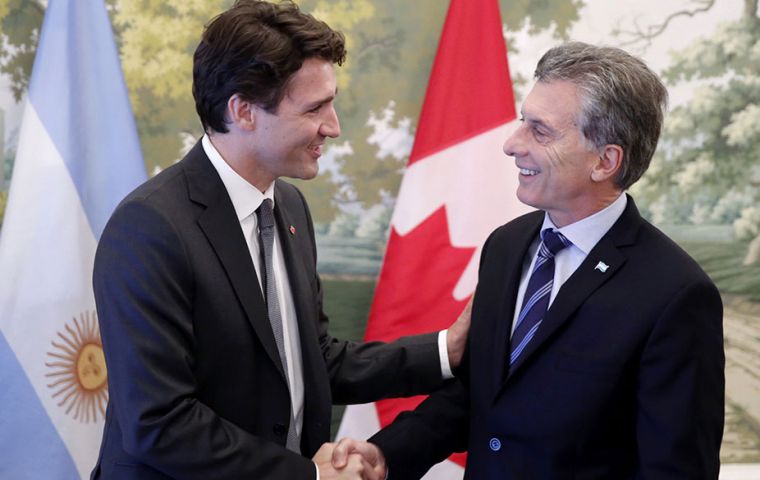 Straight from Havana and enroute to Lima, the Canadian Prime Minister seeks to assert regional leadership following the tied caused by Donald Trump's election for the presidency of the United States.
Canadian Prime Minister Justin Trudeau is expected to arrive in Buenos Aires from Cuba Thursday morning, after which he is scheduled to hold meetings at the Canadian Chamber of Commerce in Buenos Aires and place a wreath in Plaza San Martín together with Foreign Minister Susana Malcorra.
Trudeau, who Tuesday was in Havana with Cuban President Raúl Castro, is to meet privately with President Mauricio Macri at the Casa Rosada at 3pm and hold a joint press conference an hour later after signing bilateral agreements. In the evening, Trudeau will be guest of honor at a dinner at the presidential residence of Olivos.
Argentina is Trudeau's second stop on a Latin American tour that will continue at the APEC Economic Leaders' Week in Lima where the bloc's Economic Leaders' Week is under way. The Asia-Pacific Economic Cooperation (APEC), founded in November of 1989, is a forum of 21 economies in the Asia-Pacific region, which seeks to promote the liberalization of trade and investment, facilitate business and promote economic cooperation, achieve prosperity among member economies: Australia; Brunei; Canada; Chile; People's Republic of China; Hong Kong, China; Indonesia; Japan; Malaysia; Mexico; New Zealand; Papua New Guinea; Peru; the Philippines; Russia; Singapore; Korea; Chinese Taipei; Thailand; United States and Viet Nam.
President Macri is also expected attend the Lima event as a guest in an attempt to bring Argentina closer to the bloc.