Argentina and Canada allies in supporting free trade and combating protectionism
Friday, November 18th 2016 - 09:36 UTC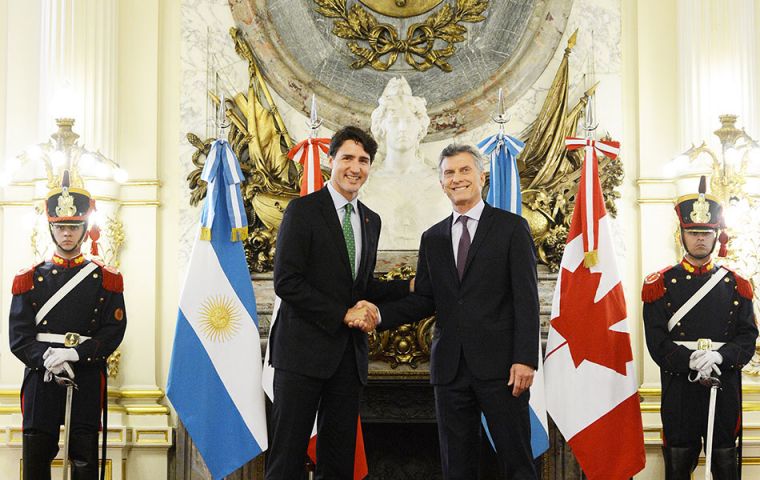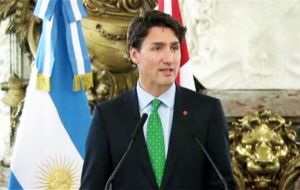 Argentine president Mauricio Macri and Canadian Prime Minister Justin Trudeau took direct aim on Thursday at the walls of protectionism set to be erected around the United States, saying that freer trade is the best way to pull their countries out of economic uncertainty. The two leaders said there is real anxiety that progress and global trade have resulted in people being left behind or children being robbed of the same opportunities afforded their parents and grandparents.
That anxiety has propelled anti-trade and anti-immigration movements in various places around the world, the most compelling examples of which are the election of Donald Trump in the U.S. and Britain's vote to exit the European Union.
"It is an indisputable fact that trade is good for economic growth and can and should be good for all citizens," Trudeau told a news conference Thursday.
"The challenge we're facing right now is to demonstrate that we can create trade deals that give benefits to small and medium-sized enterprises, that give benefits to the middle class and to the communities they call home. That's exactly where Mauricio and I agree entirely."
Speaking in Spanish, Macri said his government believes that trade is the way to raise his citizens out of poverty, alleviate pressure on middle income earners and help the country's finances overall.
Macri is moving the country to the political centre after years of populist, nationalistic governments. He has made changes to currency rules, the tax code and the central statistics office in an effort to rebuild credibility and investor interest.
But Macri's moves have been problematic for Argentines: the Peso fell in value by 30% againts the US dollar after controls were removed, some 200,000 jobs have been lost based on estimates from the Argentina Center of Political Economy, and the loss of energy subsidies has seen electricity costs shoot up by about 300%.
Domestic polling figures suggest the majority of Argentines are not pleased with the state of affairs in their country.
Macri and Trudeau declared that Argentina would open its doors again to Canadian pork products, collaborate on resettling 3,000 Syrian refugees into Argentina — including through an Argentine version of Canada's private sponsorship program — and work through the World Trade Organization to further open borders to goods and services.
Macri said he expected Canadian companies to be interested in investing in Argentina's infrastructure program, which he compared to the multi-billion, multi-year program the government of Trudeau is undertaking in Canada.
Canadian companies already have a foothold in Argentina, mainly in the mining sector, which receives the bulk of the attention in Canada over concerns about the social and environmental impact of projects. Some Canadian firms have been involved in conflict and there has been a couple of nasty accidents recently in Argentina.