Good weather prospects for Brazil's anticipated record soybean crop
Wednesday, January 4th 2017 - 11:12 UTC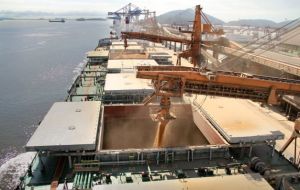 Rain showers forecast for this week should benefit soybean crops across Brazil and should not be heavy enough to hamper harvesting of the first shipments of the 2016-17 season, meteorologists said on Tuesday.
Brazil, world's largest soybean exporter, is expected to reap a record harvest of more than 100 million tons this year, according to estimates by government agencies and the private sector. The crop is in the final stages of development in the main producing states.
Forecasters said that skies are clouded in most parts of the Center-West grain belt and a cold front is due to spread rains across the Southern planting areas.
"There should be rain showers in the central states of Rondônia, Mato Grosso, Mato Grosso do Sul and in all Southern states," said meteorologist Marco Antônio dos Santos at agricultural consultancy Rural Clima.
Farmers should also expect rains this week in the Northeastern frontier region known as Matopiba, although with less volume. Many Matopiba areas have not seen any rain in more than two weeks which, combined with high temperatures, has raised concerns about crop losses.
"In that area, rains will be irregular," forecaster Somar said in a report.
In some areas of Mato Grosso, a state that produces as much soybean as Iowa and Illinois combined, early harvesting kicked off over Christmas and New Year in small areas that were planted very early in the season.
Last week, farmers whose crops were ready to be harvested expressed concern about excess humidity during this period of the year, which can spoil grain quality and prevent combines and trucks from entering the fields.
By the end of January, Mato Grosso could have 25% of its soybean area harvested, well above the pace in recent years, dumping more than seven million tons of the oilseed in the market, according to private consultant AgRural.