South Georgia: Colossal squid features on latest titanium "marine life" coin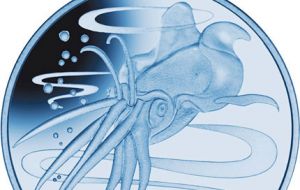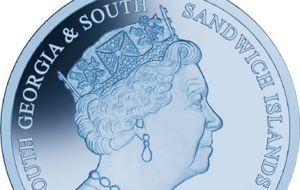 The government and treasury of South Georgia and South Sandwich Islands have issued two new coins in its ongoing Marine Life series, which features some the most amazing wildlife found in and around the South Atlantic Ocean. The design, which features the colossal squid, is issued in two versions, including titanium, which is tinted to enhance the design.
The colossal squid, or Mesonychoteuthis hamiltoni, to be more precise, has long been a creature from a sailor's nightmare, appearing in folklore throughout the ages. It has often been synonymous with the Kraken, a mighty beast notorious for dragging unwary men to their doom and emitting a foul stench that escapes from its lungs with each breath.
In reality, the colossal squid is not as "foul" as the reputation that precedes it, but there is some truth to the legends. A feud exists between the colossal squid and the sperm whale, who battle on an epic scale in the deep blue. Sperm whales are found with their backs covered in scars from the beaks of these squid—and the beaks are also found in large quantities inside the whales' stomachs!
The colossal squid is incredibly elusive and little known to the world of science. They can reach an estimated 14 meters (about 46 feet) in length and weigh up to 750 kilograms (1,650 pounds). Only a handful of juveniles have ever been formally recorded. In 2005, a 5-meter (16-foot) long specimen was caught on a fishing longline off the coast of South Georgia at a depth of 1,625 meters (5,330 feet), but it was so heavy that it couldn't be brought aboard. The colossal squid also has the animal kingdom's largest documented eye, which was observed on an immature female at a diameter of over 30 centimeters—just over 11 inches!
It is believed that colossal squid feed on prey such as predatory marine worms (a major component of plankton) and large fish such as the Patagonian toothfish, as well as on other squid in the deep ocean. They may be aided in their hunting by the photophores (light-emitting organs) in their huge eyes. A recent study revealed that Antarctic toothfish actually make up a significant part of the colossal squid's diet, although they are thought to have such a slow metabolic rate, they need only around 30 grams (1.1 ounce) of prey daily.
The coin is produced in two versions by the Pobjoy Mint, U.K., on behalf of the government and treasury of South Georgia and the South Sandwich Islands.