Bolivia expands legal coca crop area by 12.000 hectares
Thursday, March 9th 2017 - 21:33 UTC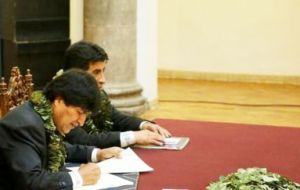 Bolivia passed a controversial measure on Wednesday to expand production of coca, the raw material for cocaine. Leftist president Evo Morales dismissed warnings that an increase in coca crops would fuel the illegal drug trade.
The coca leaf is commonly chewed or drunk like tea, but drug gangs make it into cocaine in a chemical process that brings out its narcotic qualities. Morales rolled back a 1988 US-backed law which curbed illegal coca growing by restricting production.
He is himself a former coca farmer and current leader of a grouping of coca farmers' unions in the central Chapare region.
"We want to guarantee coca supplies for life" for Bolivians who consume the leaves legally, sometimes in ancestral rituals, he said in a speech.
Morales signed into law a reform passed by congress last month. It officially recognizes as legal 22,000 hectares of coca crops, raising the limit of 12,000 hectares fixed in the previous law. A European Union study in 2013 estimated demand for legal coca in Bolivia at just 14,700 hectares.
Other coca farmers' unions boycotted the launching of the measure, alleging that Chapare supplies coca to the cocaine trade.
Bolivia is the third biggest coca producer in the world after Colombia and Peru. Those two countries are trying to reduce their coca crops to curb drug-trafficking.
Former president Jorge Quiroga said Morales's move would "bring international shame" on Bolivia "due to the stigma of drug-trafficking and the crime that it will cause."