Peruvian 2017 toothfish quota established at 160 tons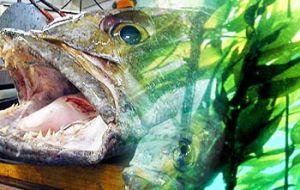 Peruvian Ministry of Production (PRODUCE) has set the maximum allowable catch quota for Patagonian toothfish (Dissostichus eleginoides) at 160 tons for 2017. According to the Ministerial Resolution No. 097-2017-PRODUCE, published on Friday in the official newspaper El Peruano, states the quota may be modified according to biological and/or environmental conditions, following a report from the Instituto Mar del Peru (IMARPE).
Fishing for Patagonian toothfish must end when the quota is reached or, failing that, its performance may not exceed December 31, 2017.
IMARPE will monitor and follow up the main biological indicators of the deep-sea cod resource and will have to inform and recommend fishing management measures it considers appropriate to the Ministry.
The vessels have to use the Fishing Log format approved by PRODUCE on July 21, 2016.
Failure to comply with the provisions contained in the aforementioned Ministerial Resolution, as well as infractions committed during capture and processing activities of the deep-sea toothfish resource will be sanctioned according to the current legal framework. (FIS)