It's official: 12.7 million Argentines live in poverty, 30.3% of the population
Wednesday, March 29th 2017 - 10:15 UTC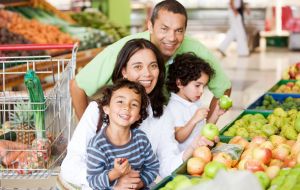 Argentina's official poverty index in the second half of 2016 dropped to 30.3%, an estimated 12.7 million people, from 32.2% in the first half according to the country's stats office Indec. The 30.3% index includes 6.1% of indigence, which is also below the 6.3% of the first half. The drop means that 800.000 people are no longer in the poverty category index.
At the end of 2016, a family of four, father, 35, mother, 31, and two children, 6 and 8, needed 13.155 Pesos (approx. US$ 870) a month to purchase the Total Basic Basket which kept them above poverty line, or 5.458 Pesos (US$ 360) to purchase the Basic Food Basket, and not fall in indigence.
According to Indec the highest poverty index was recorded in Santiago del Estero with 44%; Concordia, Entre Rios, 43.6%; San Juan, 43.5%; Cordoba, 40.5%; Corrientes, 39.5% and Great Buenos Aires with 34.6%. At the other extreme are Buenos Aires City, 9.5%; Ushuaia, 9.7% and Rio Gallegos, 13.4%.
As to indigence, Ushuaia reported 2.1%; Comodoro Rivadavia and Buenos Aires City, 2.3% and Paraná, 2.4%. The highest rates correspond to Cordoba, 10.8%; Santiago del Estero, 8.8% and Great Buenos Aires, 7.5%.
Private data published in March by the Catholic University of Argentina, however, showed 32.9 percent of Argentines lived in poverty, up from 32.6 percent in April and 29 percent in 2015. The university's data was seen as a benchmark in the absence of reliable data under Fernandez.
Argentina poverty and indigence data ceased to be published in 2013 under Cristina Fernandez , when according to the latest record poverty was 4.1% and indigence, 1.4%.
The official excuse for ceasing to make public poverty records was explained at the time by then minister Axel Kicillof saying they were "stigmatizing".