Brazil says the RAF Falklands-outbound flight last Saturday was on a search and rescue mission
Wednesday, April 12th 2017 - 08:34 UTC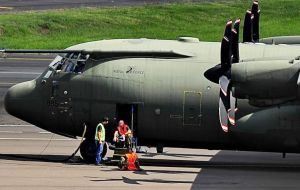 The RAF Hercules flight which last Saturday landed in the international Brazilian airport of Porto Alegre was flying from the Falkland Islands on a search and rescue mission, as part of a humanitarian effort, according to the Brazilian reply delivered to the Argentine foreign ministry, and reported by political analyst Martin Dinatale.
According to reliable sources from Palacio San Martin, the Brazilian foreign ministry or Itamaraty, informed the Argentine authorities that the RAF Hercules photographed by reporter Fernando Gomes from the Zero Hora daily, last Saturday at the Salgado Filho airport, and which flew in from the Falklands was involved in high seas rescue and search operations.
Dinatale points out that Brazilian diplomacy underlined that it was not an aircraft on a military mission, and because of a technical need to refuel had landed in Porto Alegre since the next nearest spot for the RAF was Ascension Island.
"There are international responsibilities which faced with a humanitarian situation, a country can't refuse providing fuel to an aircraft", said Itamaraty sources quoted by Dinatale.
Argentina has repeatedly expressed concern to Brazil about British military aircraft flying to or from the Falklands, calling at Brazilian airports as was the case on Saturday, and last month, when an RAF Airbus 330 outbound from the Falklands and heading for Sao Paulo, three days later returned to the Islands following the same itinerary.
The Argentine government presented a report-complaint on the RAF Airbus: it left from MPA Sunday March 12th at 22:44, arrived at Sao Paulo March 13th. at 02:47 and returned for the Islands on the 14th, at 23:47.
"We know that the flight was military and involved refueling as has happened with other trips between the Islands and Brazil", but the Brazilian foreign ministry denied that last Saturday's flight, and the previous one were military refuels.
However Itamaraty insisted there is no decision from Brazil to refuel British military aircraft, and the planned commercial flights between the Islands and the continent, will only be allowed to operate in Brazil, if Argentina agrees.
Argentina's foreign minister Susana Malcorra claims that last year at least six military flights between the Islands and Brazil took place, and in 2015, when Cristina Fernandez was president, the number was twelve. Brazil's reply to Argentine concern-complaint has been so far to open an investigation in the different forces and departments on the RAF flights between MPA and Brazilian airports, concludes the column from Dinatale.