Falklands' CEO Barry Rowland named Acting Governor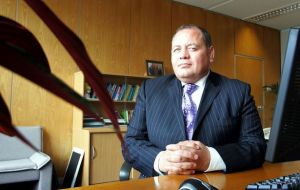 The Falkland Islands Government Chief Executive Barry Rowland has been appointed as Acting Governor of the Falkland Islands and Acting Commissioner of South Georgia and South Sandwich Islands for the period 3-14 May 2017.
The appointment has been made in order to cover an unexpected and unavoidable absence from the Islands of Governor Colin Roberts CVO at a time when the Deputy Governor is also overseas.
The respective designations of Mr. Rowland as Acting Governor and Acting Commissioner were made under Section 24 of the Falkland Islands Constitution Order 2008 and Article 4 of the South Georgia and South Sandwich Islands Order 1985.(PN).