Falklands/UK airbridge has reduced flight time with re-route via Cape Verde
Friday, May 26th 2017 - 07:49 UTC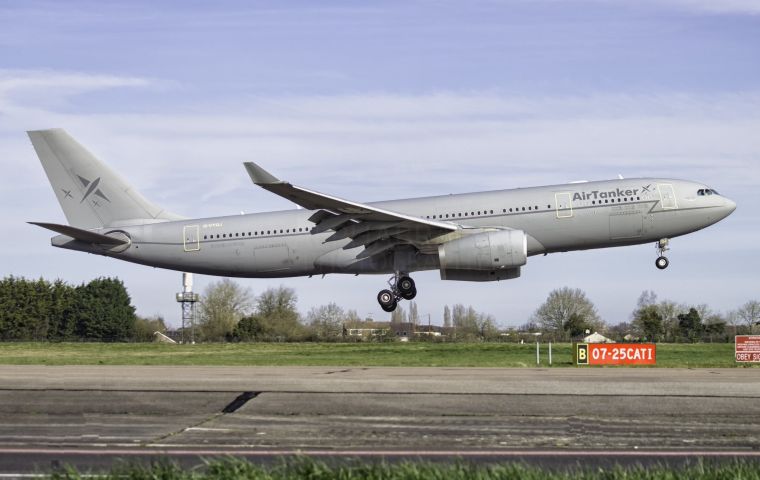 The United Kingdom MoD (Ministry of Defense) announced on Thursday that plans were in place to trial the Falkland Islands Airbridge flight via Sal, Cape Verde, on a temporary basis which would result in a shorter overall flight time and improved passenger experience.
The Brize Norton/Falklands MPA Airbridge has had a bumpy ride over recent weeks with delays on north and south-bound flights since it had been diverted to Dakar, Senegal, for works to be carried out on the runway at the usual stopover point of Ascension Island.
A military spokesperson said that during this period the MoD had continued to look into longer term options to best meet the needs of the UK and Falkland Islands and as part of this process it was planned to trial going via Cape Verde, "on a temporary basis."
The spokesperson said there were many factors to take into consideration regarding the Airbridge and the MoD was working hard to establish the best possible route for the longer term. The final decision for a longer term refueling location for the Airbridge is expected in due course.
Last Friday, CBFSAI Brigadier Baz Bennett explained that there had been a prolonged period of poor weather in the form of 'rotors' caused by a high pressure front, leading to a very long spell of north or north westerly wind.
The rotor winds lasted well into the weekend meaning that Mount Pleasant airfield could not operate and several delayed flights were combined and arrived in the Falklands on Monday.
The Airbridge is currently on schedule to arrive at Mount Pleasant today (Friday) at 3.20pm and depart on Saturday at 10am.
While recent delays attracted some criticism from frustrated users, there was equal support for the link with the UK from others who highlighted the high safety standards of the RAF. (Penguin News).