The Falklands: Then & Now opens at the Historic Dockyard Museum
Sunday, June 18th 2017 - 09:46 UTC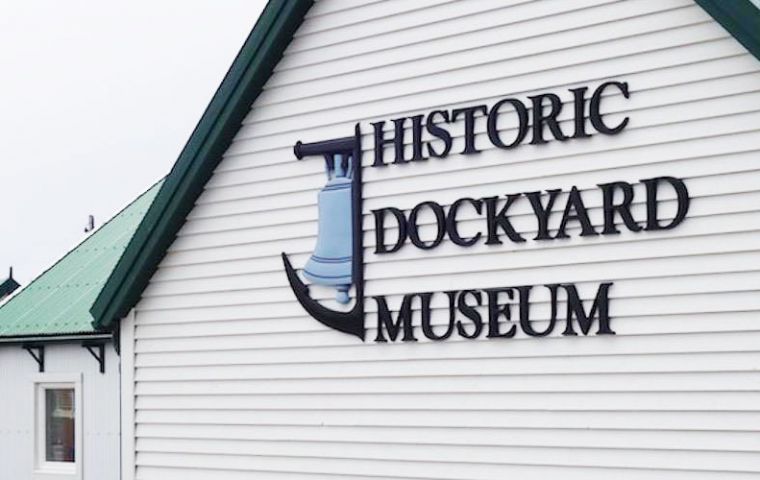 A fascinating new exhibition, entitled The Falklands: Then & Now was opened by the Acting Governor Alex Mitham, in the Historic Dockyard Museum last week. Museum Director, Andrea Barlow, thanks invited guests to the preview, and expressed her gratitude for the many contributions to the exhibition.
Donations and loans have been received from many local organisations such as the Royal Falkland Islands Police, the Falkland Island Defence Force, Bactec, FIMCO, WoolCo, Standard Chartered Bank, and several individuals.
These, combined with the enthusiasm and creativity of the Museum staff has enabled an enlightening new slant on how life in the Falklands has been transformed in the last 35 years.
Many aspects of Falklands' life and culture are displayed along the walls of the Museum: Camp Education (then, with travelling teachers on horseback, now by FIGAS) food (then, the butcher delivering quarters of mutton to the door, now, driving to a supermarket) roads (then, with cars getting bogged outside the Rose Bar, now, we see the MPA road being Tarmacced). There's something for everyone to enjoy with displays on sport, leisure, farming, pubs, and even Penguin News.
In terms of produce, there is now local beer from Falklands Beerworks, and modern merino wool garments from Blue Beach sheep, which were worn by Stuart Horsewood, SCB Chief Executive, when he ran his marathon in Antarctica last year.
The part of the exhibition covering the work carried out by the deminers is worth the entrance fee alone, and we hope to feature it in more detail, shortly. The mesmerising video of them at work in arduous conditions is breathtaking and allows the public to appreciate what is involved in the vital task. Their selfless work will enable more transformation of the Falklands in the future.
And it is the progress that the Islands and its people have made in the last 35 years that is the emphasis of the exhibition.
For a relative newcomer, it is fascinating to see how much (and sometimes how little) some aspects of life have changed. For anyone born and bred in the Falklands, it will be a vivid reminder of how far the Islands have come in a relatively short time.
By Peter Young – Stanley (Penguin News)