Falklands: balancing financial prudence with the need to invest in a large capital program.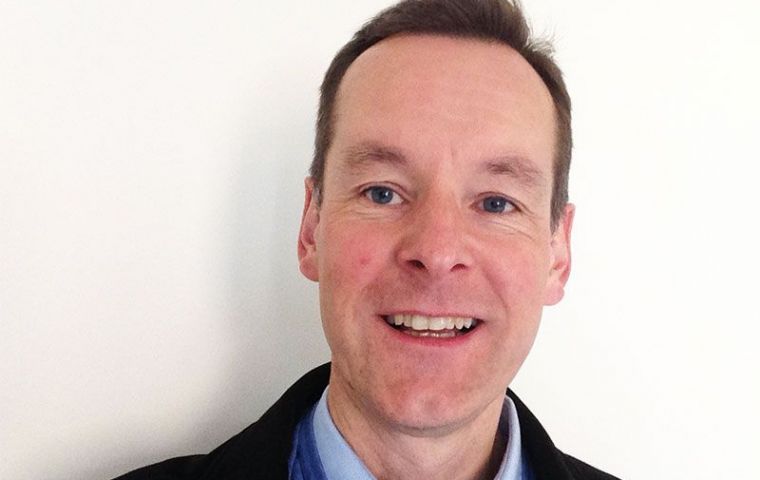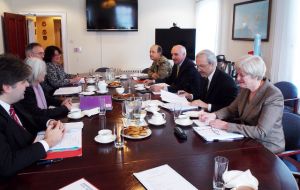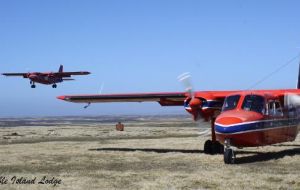 James Wilson is the new Financial Secretary within the Falkland Islands Government. A position some think is the equivalent to the Chancellor of the Exchequer in the UK Government. There are, however, some major differences: James is not a politician but a civil servant.
His department, Treasury, not only controls the budgeting and expenditure for the whole of government, but is also responsible for banking regulations; the country's currency supply; tax legislation and collection of taxation, plus he also has a statutory role on Executive Council and Legislative Assembly.
Speaking to Penguin News this week, Mr. Wilson explained that throughout his career he has mostly worked in government-type organizations, delivering public services direct to the public. He has worked in Policing and before that, the Probation Service. He explained that he enjoys working for organizations that deliver quality public services, and works in partnership with the private sector.
Wilson believes it is important that the spending of public money be accountable and transparent. He finds the close working relationship between Assembly Members (MLA) and senior civil servants means that FIG can be responsive and take action, when needed.
With FIG, he is confident it has high standards of governance and good engagement with the public both as voters and service users. He gave the example: "I arrived in May at the tail end of the budget process, and could see how all connected that was through to local democracy."
He also has positive memories of the Treasury from 2002-2004 when he worked with Derek Howatt, Keith Padgett and other colleagues; and he is keen to build on the solid financial base that his predecessors have built up.
Mr. Wilson says he has noticed quite a few changes since his previous spell here.
"In my first weekend back, I visited Port Howard, Hill Cove and Fox Bay, and I saw, and was told by residents, the benefits of the ferry crossing to the West. In addition, I experienced the extensive road network that is now on West Falkland. And it's good to see Tarmac on the MPA road. I'm sure the road is now wider than when I was here in 2004.
"Within Government, the IT systems are a lot better than 13 years ago. And overall, I think that technology has improved since my last visit. For example, I can now use Skype and Whatsapp to stay in touch with family in different parts of the world, rather than worry about the cost of international land line phone calls.
"Also, living in Stanley, I appreciate the quality of the built environment that has developed since I was last here in 2004; be it the expansion of retailers, pavements, or the way that East Stanley is laid out with footpaths and street lighting."
Looking forward, Mr. Wilson is keen to work with colleagues to help determine, and deliver on, developments. He said: "I see that finance should be an enabler, as well as a control. And given the close proximity here of all the functions of government and public services, it gives us the ability to work directly with other departments and collaborate to find solutions.
"I shall be looking to introduce improvements to internal processes and try to reduce the need for paper. Internal changes may not be visible to the public, but one area I will be looking at is how to allow visitors to easily pay (by chip and pin credit card) for government services such as FIGAS flights or hospital services."
Wilson said his and the Treasury's main priorities for the next two years are to balance financial prudence and sustainability against the need to invest in the large capital program.
"My predecessor, Nic Granger, left a fiscally stable organization. And for the defined capital program, there is now a Program Manager in place, whose role it will be to measure overall capacity and look at issues of prioritization and dependencies between different projects and the ability of FIG to deliver the agreed program. All large projects will go through the tendering process.
"One of my main challenges will be how to prioritize future developments, and how to match development to funding."
Wilson believes the Financial Secretary's role requires, "a forward looking view to maintain the balance of financial stability against continued investment in infrastructure and the successful Economic and Social Development of the Falkland Islands."
He said currently there was a committed and able team within the Treasury; including finance, taxation, pensions and audit colleagues.
"I want to build upon this to deliver the aims of government Having worked in Treasury in the past, my learning curve has been much easier in some ways, and I hope to continue the good work of my predecessors". (Penguin News).