Brazil expects to harvest 111 million tons of soybeans in 2017/18 season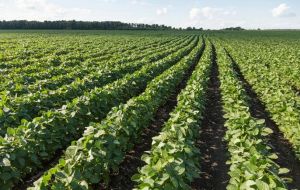 Brazilian farmers are expected to collect 111 million tons of soybeans in the 2017/18 season, said consultancy firm Agroconsult, maintaining the same forecast it released in September.
Agroconsult also estimates a 3% rise in soybean planted area, to a record 35 million hectares, as more farmers opted to plant the oilseed instead of corn during the Brazilian summer, André Pessoa, a director, said.
If climate conditions allow, Agroconsult does not rule out Brazil's soy output reaching 115 million tons, he said. Last season, Brazilian farmers collected a record 114.7 million tons of soybeans, according to Conab, the government's statistics and food supply agency.
Agroconsult lowered its estimate for first corn production, to 24.8 million tons from 26.1 million tons, Pessoa said. As a result, the consultancy's total corn output forecast for 2017/18 was lowered to 94.4 million tons from the earlier forecast of 95.3 million tons.