Battle Day marked in the Falkland Islands 103 years on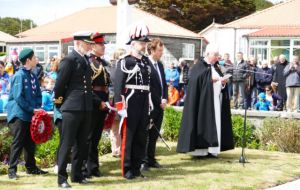 Residents of the Falkland Islands annually mark one of the early major naval battles of the First World War, which took place off the coast of the Islands. This year the event was commemorated with a traditional parade, made up of Members of the Falkland Islands Defence Force.
This is the first Battle Day parade since the Islands new Government was elected into office in early November and Members of the Legislative Assembly were also in attendance along with the Governor of the Falkland Islands.
The UK Ministry of Defence were also represented at the parade but have taken a less visible role since the centenary commemorations in 2014, a point at which formal MoD involvement normally reduces.
The day, which is a public holiday in the Islands, will also include events hosted by the Royal British Legion and the Falklands Club. The event will be marked at the Cenotaph in London on Saturday morning, with events being coordinated by the UK-based Falkland Islands Association.
The historic naval battle took place on the 8th December 1914 between British and German vessels and, at the time, was a necessary success for the British forces in the South Atlantic. It came just a few weeks after the British had lost vessels and crew in the Battle of Coronel.
The task force which ultimately won the Battle of the Falklands were sent to the area in response to that earlier defeat.
The 8th December in 1914 was said to be clear and calm, and the historic events of the day were subsequently immortalised in the 1927 film "The Battles of Coronel and the Falkland Islands". This film was restored and re-released by the British Film Institute in 2014 to mark the centenary of the battle.
At that time the Falkland Islands Government also invited descendants of Admiral Graf Von Spee and Admiral Sturdee and a number of other dignitaries to the Islands to help mark the centenary with a range of commemorative events.