Icebreaker Irizar calls at Ushuaia on her 2017/18 Antarctica campaign
Tuesday, January 2nd 2018 - 06:55 UTC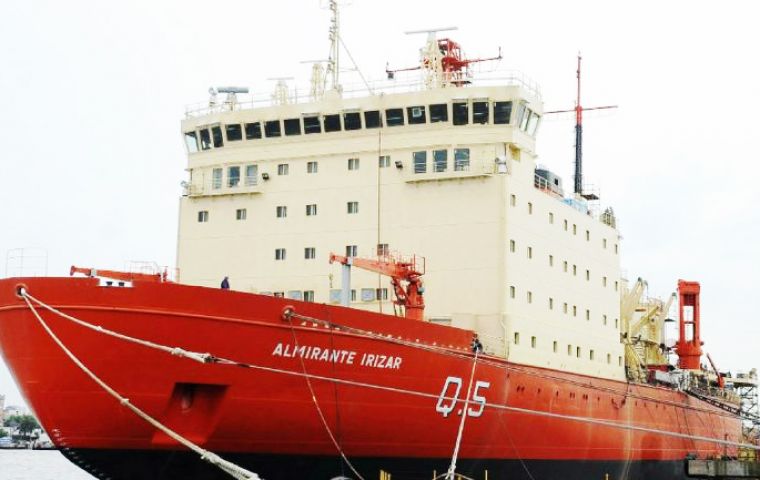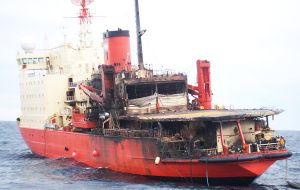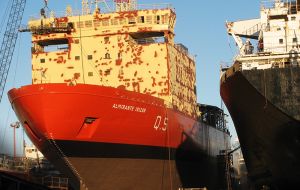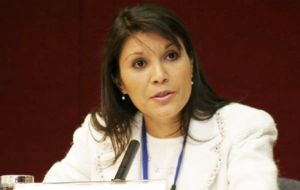 Argentina's flagship of Antarctica operations is back after ten long years. The refurbished icebreaker ARA Almirante Irizar, called at Ushuaia, Tierra del Fuego, on New Year before leaving for the 2017/18 summer campaign.
It will be the Argentine navy's 114th Antarctica campaign and on this occasion Irizar will be accompanied by two support vessels, ARA Canal Beagle and ARA Estrecho de San Carlos.
Icebreaker Irizar will be involved in supplying Argentine bases and stations in Antarctica, an activity which she started in 1979 after having been delivered by Finland's shipyards Wärtsilä in Helsinki, and which she continued until ravaged by a fire that left her almost useless in 2007.
The refurbished vessel, with greater lab facilities, will also be involved in several scientific research missions and carries a greater number of experts in different disciplines.
Before reaching Ushuaia there was a poignant ceremony to honor comrades from the missing ARA San Juan, when she sailed next to the last reported position by the submarine.
Following the disastrous fire in 2007, after some consideration it was decided to recover the Irizar in the local Tandanor shipyard, a task which turned into an exasperating challenge involving millions of dollars, patience, corruption allegations, red tape and insufficient funds, plus contracting Russian icebreakers, all of which delayed her return to Antarctica activities ten full years.
"We have thirteen bases and stations in Antarctica and Irizar will be supplying most of them, this is a strategic, political and juridical task for Argentina which has sovereignty claims in Antarctica", Fernanda Millicay, head of the National Antarctica Division and who coordinates Argentine activities in the southern pole said.
And for this "we also need a first class, very active intense scientific display and Irizar will accomplish that, it's part of the needed influence in the region" she added.
As to the recovery and refurbishing of Almirante Irizar, Jorge Arosa, head of the Argentine Industrial and Naval Complex, Cinar, said that 1.3 million man-hours were invested and "it was a major challenge, since it's easier to make a new hull than repair and modernize an old one"
Arosa proudly argues that if Argentina today was to buy a similar icebreaker in the world market, it would have to pay at least 100 million dollars more than what the overall cost of refurbishing ARA Irizar.
Another proud man of Irizar's resurrection is Jose Luis Perez Varela who was responsible for starting and testing and all the new equipment, and preparing the staff. He took off in 2014 and two years later delivered the vessel to the Argentine navy following the maritime certification by Norway's Det Norske Veritas, and having completed fluvial and sea trials, and testing her resistance to Antarctica ice.
The vessel now has greater space for scientific research: from 70 sq m to 400 sq m and seven labs instead of an only one. "It's going to be a fantastic return for the Argentine Antarctica Institute in scientific research capability, and obviously in international cooperation. We're back in the premier league" emphasized Fernanda Millicay.