Chinese locomotives to revive Argentina's cargo train network
Friday, January 5th 2018 - 10:39 UTC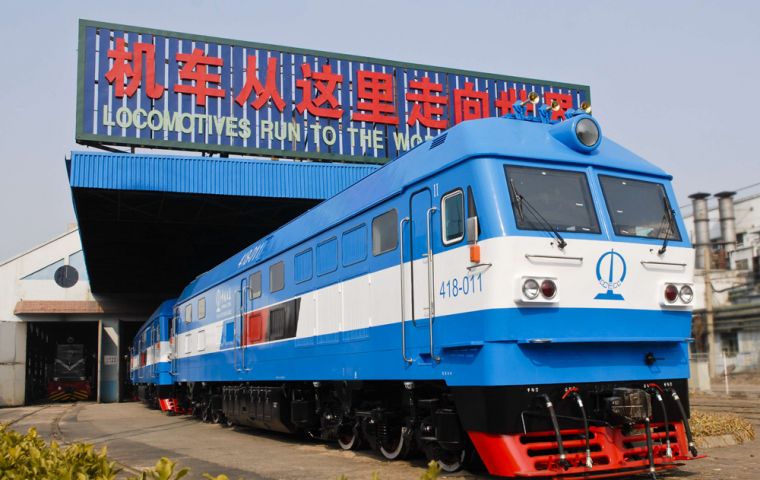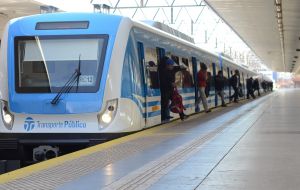 A new shipment of Chinese-made locomotives arrived in the Port of Buenos Aires on Wednesday to revive Argentina's key Belgrano Cargas cargo train network. The eight locomotives will form part of a strategic rail line that traverses northern Argentina's agricultural heartland and connects producers with the eastern exporting hub of Rosario, a port located 300 km north of the capital.
Manufactured by China's CRRC Qishuyan, a subsidiary of the CRRC Corporation Limited, the locomotives are part of a comprehensive plan to reactivate the rail system by modernizing its aging infrastructure.
The plan is financed by a US$ 2.47-billion credit line under an agreement with the China Machinery Engineering Corporation. Argentina has bought 3,500 rail cars, which have already been delivered, and 107 locomotives, along with parts, machinery, tools and shipping containers.
Han Bing, deputy director of the Belgrano Railroad Rehabilitation Project, told Xinhua that upgrading the rails "has not only significantly spurred China's exports to Argentina, but also turned into a model of cooperation between the two countries within the framework of the Belt and Road Initiative."
China is also involved in renovating some 1,600 km of rails in six provinces in Argentina, namely, Jujuy, Salta, Tucuman, Santiago del Estero, Chaco and Santa Fe.
Equipped with heating and air conditioning, reading lights, water heater and LED displays, the new locomotives are safer and more comfortable for conductors.
"With the arrival of the Chinese locomotives, Argentina expects a major increase in the speed of the cargo trains. The total transport time for grains and agricultural products is going to drop, which will help Argentina's economy and exports," said Zhu Li, the project's assistant deputy director.
In November 2016, Belgrano Cargas transported 121,653 tons of goods, the most it has shipped since October 2000.
Argentina is one of the world's leading producers of grains, but logistic costs eat up to 50% of revenue due to outdated rail infrastructure, a problem the country hopes to address with China's help.
"We are very satisfied with the locomotives and the train cars. The price is a significant advantage. The technology and electronics are also good," said German Hanacek, who works in the projects department of the state-run Belgrano Cargas and Logisticas company.