Lula supporters will launch his presidential candidacy whatever a court decides on the bribe conviction
Wednesday, January 24th 2018 - 07:31 UTC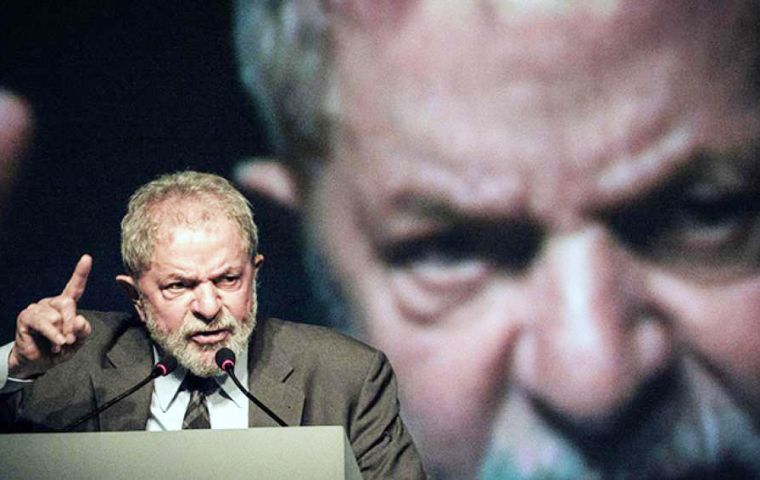 Brazilian politicians, voters and investors will find out this Wednesday whether an appeals court will allow the country's popular leader, Lula da Silva, to run for president this year after being found guilty of accepting a bribe.
The former two-term, president was convicted in July of corruption and money laundering for accepting a beachside penthouse apartment from an engineering company vying for government contracts.
If the court's three judges uphold the conviction, which carries a sentence of nine years and six months, Lula would be ineligible to run for re-election on the Oct. 7 ballot and he could be sent to jail.
That would radically alter the political landscape of Brazil ahead of a campaign in which Lula is the early favorite, with 36% of voter preferences according to pollster Datafolha. That is double the percentage of his nearest rival, the far-right congressman and former army captain Jair Bolsonaro.
The case has polarized Brazil, with Lula's critics calling for him to be put behind bars and his Workers Party supporters claiming the charges were trumped up to stop him from running.
The appeals court, known as the TRF-4, has confirmed 95% of the convictions and sentences handed down by crusading anti-corruption judge Sergio Moro, who sentenced Lula.
Brazil's benchmark Bovespa stock index has risen more than 10% in the past month on the prospect of Lula being barred from the election sooner than originally expected.
That would improve the odds of a more centrist, market-friendly candidate winning this year's race and continuing austerity policies to reduce a budget deficit run up by Lula's impeached successor, Dilma Rousseff.
Lula, 72, has been touring the country preparing the ground for a presidential bid. CUT, Brazil's largest labor union federation and an ally of the Workers Party, plans to launch his candidacy in Sao Paulo the day after the ruling, whichever way it goes.
The party's leader, Senator Gleisi Hoffmann, went as far as to say last week that authorities would have to "kill" people to put Lula in prison, though she later qualified her comment after it created an uproar.
Lula plans to travel to Porto Alegre to rally his supporters, though the court denied his request to address the judges amid criticism he was turning the case into a pulpit for alleging political persecution.
Some 3,000 Lula supporters arrived in Porto Alegre on Monday and intend to put pressure on the courty by protesting outside the court, which has been cordoned off by police in a four-block radius.
Lula's opponents plan to celebrate in a park on the affluent side of Porto Alegre on Thursday if his conviction is upheld.
Despite the conviction and four other corruption probes against him, Lula remains Brazil's most influential politician, loved by Brazilians who benefited from social programs that lifted 30 million people out of poverty during his presidency from 2003 to 2010.
"If Lula is cleared, he will be a strong contender who would certainly reach the second-round runoff," said Lucas de Aragão, a political scientist and partner at consultancy Arko Advice in Brasilia. "But if he is convicted again, the Workers Party will have to get real and find another candidate, because it will be very hard for Lula to get registered to run."
For now, the party insists there is no plan B and is casting Lula as a political martyr being illegitimately blocked from the race by Brazilian elites who see him as a threat.
"Whatever the ruling is on Wednesday, President (Lula) cannot be barred by the appeals court from registering his candidacy," his lawyer Cristiano Zanin told foreign news media.
Presidential hopefuls must register with Brazil's electoral authority, the TSE, by Aug. 15. Lula's defense team will try to delay a final decision on his conviction as long as possible to place him on the ballot.
If an adverse ruling on Wednesday is not unanimous, Lula will have more options for appeals that could delay the process for as long as seven months, legal experts say.
Even if the TSE bars Lula, there is a chance he could appeal to higher courts on constitutional and other grounds to seek an injunction suspending his ineligibility declared by the TSE, said Henrique Neves, a former judge on the electoral court. If Lula were to run in the elections but lose his case, his votes would be annulled, Neves said.