Chinese foreign minister in Uruguay to promote trade and investments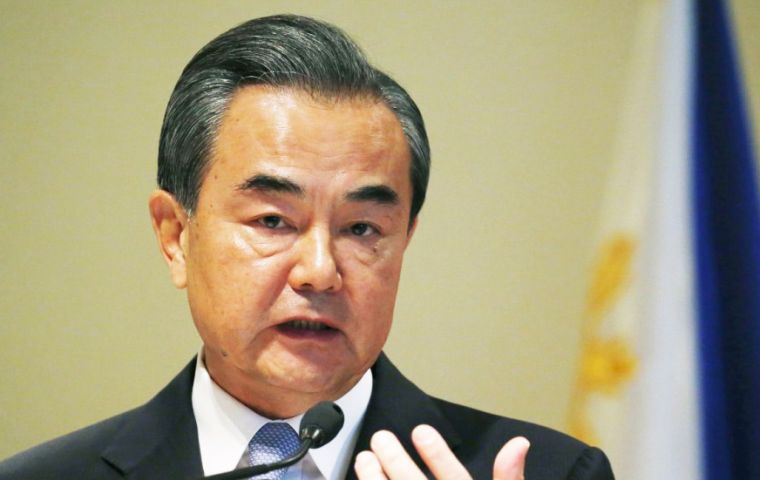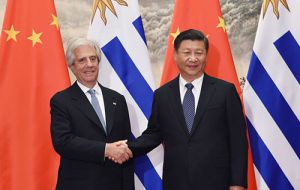 Chinese foreign minister Wang Yi arrived in Uruguay on Tuesday night for a three-day official visit which includes meetings with his peer Rodolfo Nin Novoa, president Tabare Vazquez and holding a round of talks to promote trade and discuss the possibility of a bilateral agreement.
The minister arrived from Chile where he presided a conference on Latin America and China trade and investment relations, as Beijing, preaching multilateralism and open markets, moves to ensure the vacuum left by the protectionist administration of US president Donald Trump.
President Vazquez visited China in 2016 and agreed with president Xi Jinping to advance discussions for a future free trade agreement between both countries. However strong opposition from the Uruguayan ruling coalition and domestic industry interests have so far managed to abort such an attempt.
However since China has become together with Brazil Uruguay's main trade partner, absorbing mostly commodities, exporters point out that the lack of some sort agreement with Beijing, means having to pay millions of dollars in tariffs and levies, contrary to what happens with Australia and New Zealand that have negotiated understandings which makes access to the Chinese market far more fluid and less dearer.
Nevertheless the good level of relations between China and Uruguay is not limited to trade (the main market for Uruguayan beef and wool), but also to political and even personal ties since president Xi sent president Vazquez a congratulations letter on 17 January, when his birthday.
But China apparently is also interested in promoting technology and artificial intelligence, on an experimental basis in Uruguay, with the purpose of further expanding into the rest of Latin America. All these issues are in the agenda to be addressed by the Chinese delegation.