Macri and Putin in Moscow reaffirm Argentina/Russia strategic relationship
Thursday, January 25th 2018 - 06:39 UTC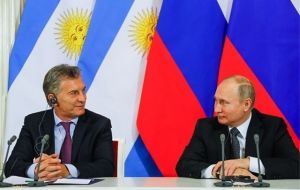 Argentine President Mauricio Macri and his Russian counterpart, Vladimir Putin, signed on Tuesday a declaration aimed at strengthening bilateral cooperation during a press conference at the Kremlin. Macri told Putin that he hoped this marked the first of many visits to the Russian capital and highlighted their countries' mutual interests.
"Since we got to know each other a year and a half ago, we have once again confirmed the importance Argentina places on this strategic relationship," said Macri, after he signed the joint declaration with Putin, adding that there was much potential for further development.
Putin said the countries shared similar outlooks on many global and regional affairs.
A memorandum of understanding signed between Argentina and Rosatom could allow the Russian state's atomic agency prospect for uranium in the South American nation, with a reported potential investment of US$250 million. This could be followed by Rosatom building a nuclear station in Argentina.
Argentina is one of Russia's leading trade and economic partners in Latin America, and president Macri is interested in Russia's participation in its infrastructure projects and the sides are also studying the opportunities of cooperating in energy, space and resource development.
Putin invited Macri to attend the 2018 Russia-hosted FIFA World Cup. "I am sure that we will talk about a huge sporting event - the FIFA World Cup - which is scheduled to be held in Russia," Putin said, addressing Marci. "We will be happy to welcome you, Mr. President, and football fans from you country," he added.
The Russian leader pointed out that relations between Moscow and Buenos Aires were long-standing, as bilateral diplomatic relations had been established in 1885. "We are pleased that our relations are rather diversified, there are many promising areas of cooperation," Putin noted.
He particularly stressed that Argentina had the largest Russian community in Latin America, which comprised 400,000 people. He thanked Macri for treating the Russians well and particularly for supporting their initiatives aimed at the development of humanitarian ties.
"This year Argentina chairs the G20 group. It would be interesting for us to know about your priorities," Putin said.
Macri also met with a group of around 20 Russian businessmen as part of a large-scale investigation into further investment opportunities, Argentine Foreign Minister Jorge Faurie reported.
Faurie stated that Argentina is currently seeking methods to improve the exchange among the agrochemicals, ports, food and rail sectors. He continued on to say that a group of Argentine officials are busy negotiating deals with Russian companies and will return to advance these agreements in February.
The Argentine president also thanked Putin for his immediate response in helping to search for the missing submarine ARA San Juan. "I would like to use this opportunity to thank you," he said. "After your telephone call, we received Russia's assistance in the search and rescue operation following the loss of the San Juan submarine. It once again proves the love Russia shows to Argentina".
After the meeting, Macri attended a ceremony to inaugurate the Argentine Republic Square near the country's embassy in Moscow. This followed the naming of a Russian Federation square in Buenos Aires last year.