Macri meets EU leaders in Davos; Argentina sells research reactor to Holland
Thursday, January 25th 2018 - 09:47 UTC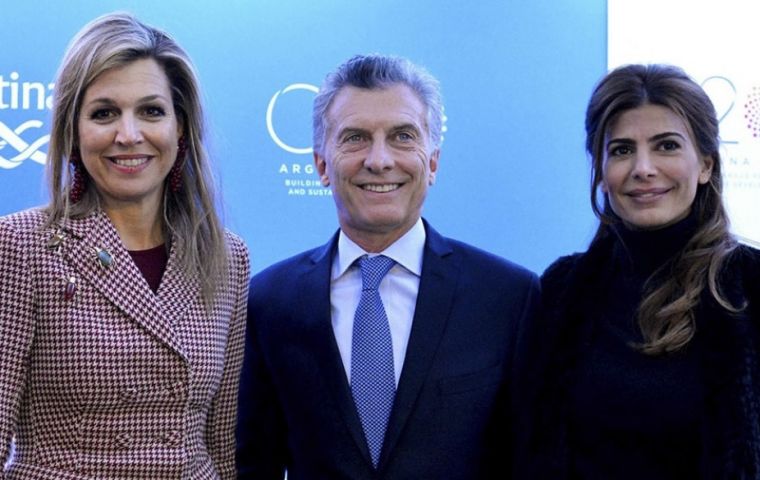 Argentine president Mauricio Macri held on Wednesday a meeting with the German Chancellor Angela Merkel in the framework of the World Economic Forum in Davos, Switzerland, in which they discussed German investments in Argentina through Private-Public Partnership (PPP).
Macri also discussed with Merkel the progress of the negotiations between Mercosur and the European Union to reach a trade agreement between both blocs.
The Argentine head of state ratified the primary objective of his administration to achieve greater development and increase employment, given the wide possibilities offered by the country through its natural and human resources, Casa Rosada reported.
Likewise it announced Argentina will be building an atomic research reactor for the medical industry in Holland, which underlines Argentina's technology leadership and the fact it can be trusted in nuclear development for peaceful purposes.
Macri made the announced in Davos during a meeting with Holland's prime minister Mark Rutte and the Netherlands Argentine born queen Maxima, following the signing of the contract between Dutch and Argentine officials in The Hague.
"It's a great milestone because it confirms Argentina is a reliable partner in the peaceful use of nuclear technology", indicated Macri, who praised Argentina's INVAP, Applied Research institute, which won the bid to supply the reactor to Holland.
The Argentine reactor should replace the one Europe has in Holland, which is coming to the end of its useful life, and provides the EU of 60% of radioisotopes.