"Rhubarb Day" celebrated at the Magallanes Expo in Punta Arenas
Monday, January 29th 2018 - 11:06 UTC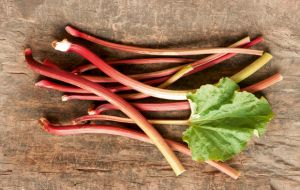 Punta Arenas celebrated "Rhubarb Day" as part of the Magallanes Expo celebrations. Although not original from the extreme south of Chile, rhubarb has long grown and adapted in Magallanes region where it is much valued for its gastronomic and medicinal properties.
In effect according to Punta Arenas residents, the low lying plant of big green leaves and red stem has antioxidant properties, and was first common in salads and marmalades, but has since advanced into sauces, flour and even punch. But the more intense the red color of the stem means it has been more exposed to the sun and thus is tastier.
"When we talk about rhubarb in Magallanes, we're talking about a product we feel belongs to us because it has been with us for a long time and it is used in many of our traditional dishes, including marmalades, juice, küchen, and some even more creative such as vinegar, flour and different sauces", pointed out Victor Vargas Vidal head of Magallanes Agriculture Development Institute.
He added that Magallanes was considering its industrial plantation with the purpose of imposing it in international markets.
The big attraction at the Magallanes Expo was rhubarb punch, which is considered to have laxative properties, küchen and the marmalades with their typical sweet/sour taste that makes them so special.
Another surprise was rhubarb chicha, which is the name given to the alcoholic drink of the aborigines made out of fermented fruit. In this case a lady by the name Irma Silva, in her stall at the expo, said that after experimenting with fermented rhubarb stems, she managed the most exquisite liqueur.