Falklands ecosystem documented in National Geographic February
Wednesday, January 31st 2018 - 16:04 UTC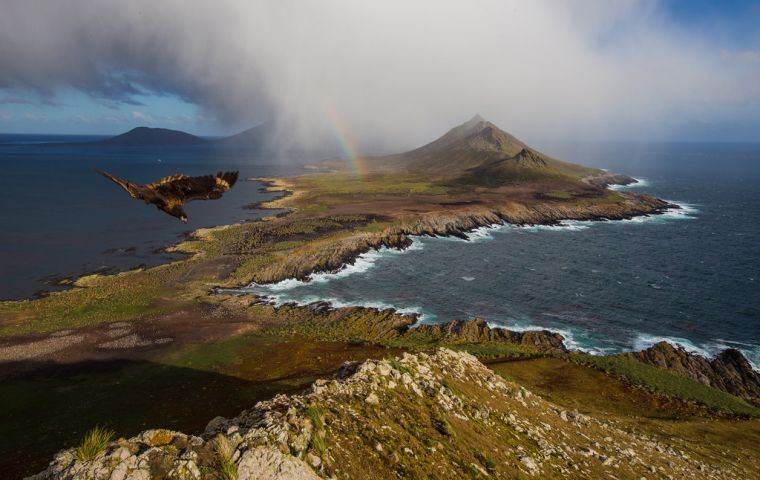 The National Geographic February 2018 will document the Falkland Islands' diverse ecosystem by wildlife photographer Paul Nicklen. The piece points out that for every permanent resident in the Falklands there are 167 sheep, but also the Islands have 65 species of birds, along marine mammals in the surrounding ecosystem.
The Falklands are often held up as a lesson in conservation, and how society and nature can peacefully coexist, points out Nicklen.
In a short interview Nicklen admits he often travels to Antarctica and the Falklands are one of the major stopping grounds, and it was time to fully address a cross section of such the rich ecosystem.
"There seems to be this balance of people, sheep, agriculture, fishing, and really abundant wildlife and nature".
Sitting at Steeple Jason, Nicklen described how he picture the lead image of the magazine dedicated to Falklands.
"I was sitting there in awe, photographing, with beautiful light, storms in the distance, looking at tens of thousands of perfectly spaced black-browed albatrosses on their home-made nests and their partners were soaring through the air. And this bird with a 2.5 meter wingspan comes in, floating behind me on the wind and taps me on the back of the head as it soars over me. And that's the one that you see, the lead image of the wings framing the colony".
Finally the international photographer admits that "being in the Falklands really lifted my spirits. It gave me hope that places will recover if we can just get out of the way".