Falklands Meat Company renovated including a new business manager
Friday, February 2nd 2018 - 20:00 UTC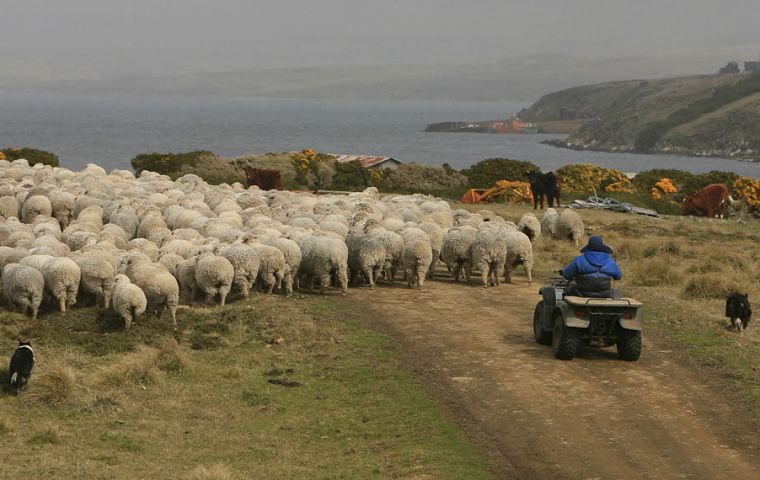 The Falkland Islands Meat Company (FIMCo) has announced the appointment of their new Business Improvement Manager. Michael Ledwith is to start this month on a new full-time contract, tasked with implementing change at the Sand Bay plant, "bringing peak performance through operational efficiency and productivity in the business," according to information from FIMCo.
The new manager will be working with the plant's team and the company's board, to get FIMCo to a point where the needs of Islands farmers are met and domestic and international customers supplied with the best products. This will put the £3m turnover abattoir and production plant on a sustainable financial footing notes the press release.
It continues by noting that last year, FIDC recruited the services of meat industry specialists Christine Walsh and Martin Palmer, of Meat and Livestock Commercial Services Limited, who conducted a comprehensive desk-research and fieldwork appraisal of the FIMCo business.
Work stemming directly from that report was implemented under the guidance of the Chair and board, with the most immediate result being the healthiest finances the business has had in some time. The focus is now on the future.
FIDC's recent review of FIMCo identified a number of business and technical issues that needed addressing to improve the profitability of the Company, currently supported in part by Government funds.
Along with the familiar challenges of our distance from markets and tough trading conditions, comes the need to use all resources at maximum efficiency, and this led to the new post - with a brief to implement the review and take the staff team on a journey of continuous improvement.
Mr Ledwith, who has an MSc in Meat Science from Bristol University, comes to the Islands from a dedicated career in meat production, largely in Zambia and South Africa where he has headed the technical, operational and marketing improvement at leading production plants – most recently dealing with the challenges of commercial and operational management at facilities whose 1000 personnel and 22,000 cattle per-day throughput dwarfs the FIMCo set up.
FIDC Managing Director and the FIMCo Chair Martin Slater said; "For the meat plant to succeed long term we need a competitive product and getting there, needs some intensive work on processes, backed by a culture change.
"Mr Ledwith, with his vast experience, is the person to do this and we are sure that with his dedicated and highly successful career in meat production he will have the support of the skilled Sand Bay team, its suppliers and customers."