China pledges support for "Global Britain" and praises the "golden era" in relations
Saturday, February 3rd 2018 - 11:00 UTC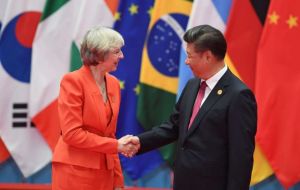 British Prime Minister Theresa May left China on Friday with deals worth more than 9.3 billion pounds, at the end of a three-day trade mission where President Xi Jinping pledged to upgrade their "golden era" in relations.
Britain is trying to reinvent itself as a global trading nation after a 2016 referendum decision to leave the European Union, and China, the world's second-largest economy, is high on the list of countries that Britain wants to sign a free trade agreement with.
Speaking at a business summit in China's commercial capital Shanghai, May said Britain was keen to help bring Xi's vision for globalization and a more open Chinese economy to life.
"Meanwhile, the UK is preparing to leave the European Union. We're seizing the opportunity to become an ever-more outward-looking Global Britain, deepening our trade relations with nations around the world - including China," she said.
Chinese investment is helping Britain develop infrastructure and create jobs, with some 50,000 British businesses importing goods from China and more than 10,000 sell their goods to China, she added.
"We've agreed on moves to bring more of the UK's internationally renowned food and drink to China, to open up the market to some of Britain's world-class financial services providers," May said.
The 9.3 billion pounds in deals will create over 2,500 jobs across the United Kingdom, the British government said. Britain's financial services firms alone secured deals worth more than 1 billion pounds and market access, that would lead to 890 jobs, it said, without giving details.
China sees Britain as an important ally in its call for more open global markets, despite widespread concerns in the foreign business community about the difficulty of operating in China, and both countries refer to a "golden era" in relations.
Meeting in Beijing late on Thursday, Xi told May the two countries should "add new meaning into the bilateral ties so as to forge an enhanced version of the 'Golden Era'," according to state-run media.
In a front page commentary on Friday, the overseas edition of the People's Daily said Britain had shown "intelligence and pragmatism" in supporting Belt and Road. "It is a model for other Western nations," it said.
But Brexit has unnerved Beijing, concerned about losing an important voice supporting free trade in the European Union and what it may mean for market access to Europe for Chinese firms which have invested in Britain.
Still, Chinese Premier Li Keqiang told PM May on Wednesday that China's relations with Britain will remain unchanged through Brexit.