Busy cruise visitors week for Ushuaia: 20.000 landed during January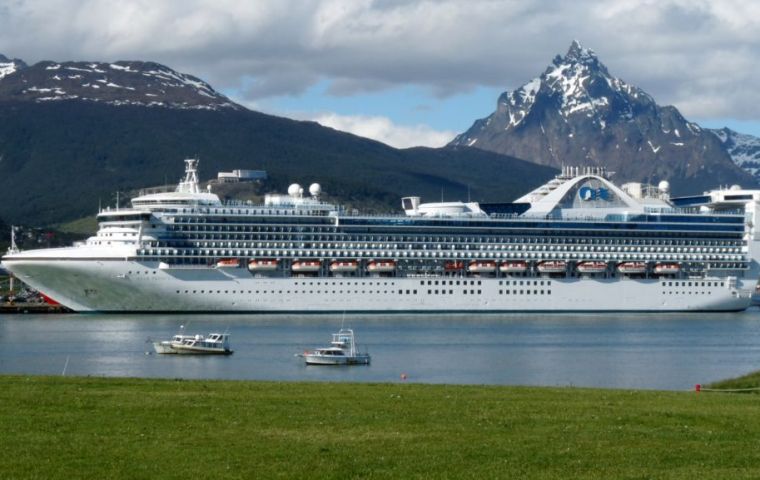 Ushuaia in the extreme south of Argentina is experiencing one of the busiest weeks of the current cruise season with six vessels and thousands of visitors calling at the capital of Tierra del Fuego. This includes the "Emerald Princess", which is the largest to visit the End of the World city and will be completing its third call this season.
"Bark Europe" is another distinguished visitor: she's a training sail vessel in which many crew members are young volunteers, and the cruise is a combination of holidays with maritime teachings. Another vessel which spent a whole day in Ushuaia is the French flagged Le Boreal with 355 visitors and crew members.
Two other regulars of the extreme south of Argentina were the "Seven Seas Mariner", and the "Zandam", calling for the third time this season. The National Geographic Explorer, 112 meters long and with 148 passengers in an expedition cruise that normally includes Antarctica and for which she is totally equipped, also docked for some hours in Ushuaia.
This Thursday will see the arrival of "Emerald Princess" with 3.000 visitors and 1.300 crew members. She is also on her third cruise calling Ushuaia this 2017/18 season.
Next week, Tuesday 13 February the "Queen Victoria" is scheduled to call with some 2.100 visitors and 900 crew members. The last time she visited Ushuaia was in 2012. Likewise, "Silver Muse" with 596 visitors and "Sirena", 684 visitors are scheduled for this month.
The current cruise season in Ushuaia is expected to reach 300 recalls, and in January only some 20.000 visitors landed, according to the Tierra del Fuego Tourism Institute, Luis Castelli.
"January and February are the top months of the high season, and this year we are expecting the usual calls from the regular visiting vessels, but also several others that will be calling for the first time", explained Castelli.