Goose Green Liberated of Landmines after more than 35 Years
Thursday, February 8th 2018 - 17:19 UTC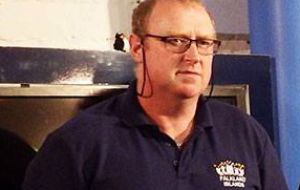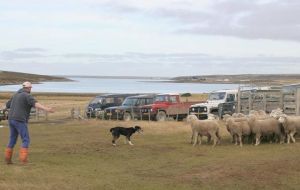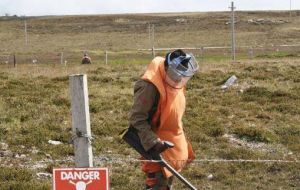 As Mercopress have reported in a series of articles over the past eight years, the Falkland Islands are slowly being cleared of the landmines laid by Argentine forces during the 1982 war. Last week this process reached a key milestone when Goose Green settlement, the site of a key battle in late May 1982, was announced as being mine-free.
Goose Green is the second largest civilian settlement in the Islands. It is the largest of the three farms on East Falklands owned by a locally-registered statutory corporation called Falkland Landholdings. The Argentine Cemetery at Darwin sits very nearby Goose Green settlement.
Goose Green is much visited by residents and tourists alike and Falkland Islanders reacted happily to the news when announced informally on social media. General Manager of the Goose Green Farm, Mr Keith Alazia, told Mercopress that "to have this land returned to animal grazing from unwanted intrusion after 35 years is brilliant". This will further expand the productive land available to his farm. This is very similar to areas nearer to the capital, Stanley, which have been cleared and now used for recreational and grazing purposes.
The de-mining clearance project has been undertaken by contractor DYNASAFE Bactec and has been progressing well since it started in 2009. Plans are for the work to continue to the end of the decade, when it is hoped to be complete. However, this date is not yet formally confirmed and will depend how on-the-ground work progresses.
The UK Foreign & Commonwealth Office, who are funding the work as an obligation under the Ottawa Convention, had spent in excess of £16m on the project as at the end of the 2016/17 financial year. The process is currently in what is referred to as Phase 5a, which commenced in 2016 and will run until the Southern winter of 2018. Phase 5b will then commence during the summer of 2018 and run into 2020.
The demining work is incredibly detailed and has been likened to 'detective work' by local project managers. They go through historical records from both the British and Argentina forces (where they exist). These have been found to be very accurate where available. They then do an initial assessment of an area prior to full 'land release', the process of removing and destroying any mines in the area. This can be done mechanically in some areas but more often than not involves a team of de-miners manually prodding into peat and mines to discover mines. Safety protocols for this are understandable strict and adhered to. The minefields have been well marked in the Islands and are mapped with clear signage to warn all visitors. As land is cleared of mines these signs are removed, and in many areas, it is expected that protective fences will also be removed.
As this project continues Mercopress shall keep you informed on this important work in the South Atlantic.