Carnage at Florida school: expelled student opens fire and kills at least 17
Thursday, February 15th 2018 - 09:08 UTC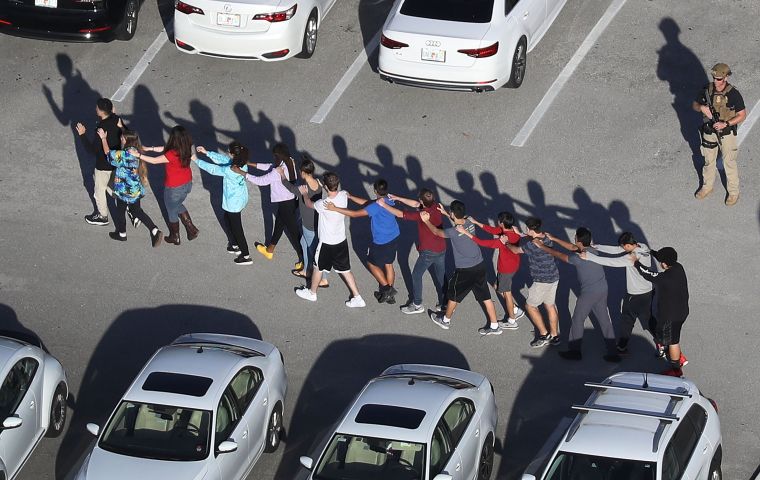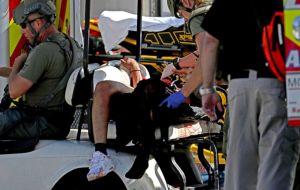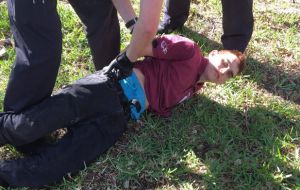 Police said a former student opened fire at a Florida high school on Wednesday, killing at least 17 people and sending scores of students fleeing into the streets in the nation's deadliest school shooting since a gunman attacked an elementary school in Newtown, Conn. The shooter, who was equipped with a gas mask and smoke grenades, set off a fire alarm to draw students out of their classrooms shortly before the school day ended, officials said.
Authorities offered no immediate details on the 19-year-old suspect or any possible motive, except to say that he had been expelled for disciplinary reasons.
Frantic parents rushed to Marjory Stoneman Douglas High School to find SWAT team members and ambulances surrounding the campus as classes prepared to dismiss for the day. Live footage showed emergency workers who appeared to be treating the wounded on sidewalks.
"It is a horrific situation," said Robert Runcie, superintendent of the school district in Parkland, Fla. "It is a horrible day for us."
The suspect was taken into custody without a fight about an hour after he left the scene, authorities said. Broward County Sheriff Scott Israel said the suspect, identified as Nikolas Cruz, was previously expelled for disciplinary reasons.
Police believe the shooter had at least one rifle and multiple magazines.
"It's catastrophic. There really are no words," Israel said on Twitter.
The attacker used the fire alarm "so the kids would come pouring out of the classrooms into the hall," Sen. Bill Nelson said in an interview on CNN. "And there the carnage began," said Nelson, who said he was briefed by the FBI. The Florida Democrat said he did not know if the assailant used the smoke grenades, but he assumed that's why he had a gas mask on.
Most of the fatalities were inside the building, though some victims were found fatally shot outside, the sheriff said.
Dr. Evan Boyar at Broward Health North told reporters Wednesday that eight victims and the suspect had been brought to his hospital. Boyar said two victims died, three were in critical condition and three were in stable condition. He said three patients were still in the operating room Wednesday evening. The suspect was treated and released to police.
Boyar said all the victims were shot but he declined to comment on their ages or the extent of their wounds. He said eight other victims were taken to other hospitals, but he did not have information on their conditions.
The high school is a sprawling complex set on a tract in the South Florida community of Parkland, about 70 kilometers north of downtown Miami. The school had just over 3,100 students in the 2016-17 academic year, according to the National Centre for Education Statistics. Major streets run along two sides and an expressway passes nearby on the other not far from a residential neighborhood of single family homes.
The day started normally at the school, which had a morning fire drill, and students were in class around 2:30 p.m. ET when another alarm sounded.
Noah Parness, 17, said he and the other students calmly went outside to their fire-drill areas when he suddenly heard popping sounds. "We saw a bunch of teachers running down the stairway, and then everybody shifted and broke into a sprint," Parness said. "I hopped a fence."
Beth Feingold said her daughter, Brittani, sent a text at 2:32 p.m. that said, "We're on code red. I'm fine," but sent another text shortly afterward saying, "Mom, I'm so scared."
Television footage showed those students who fled leaving in a single-file line with their hands over their heads as officers urged them to leave the area quickly. Parents hurried to the scene.
"I'm scared for the other parents here. You can see the concern in everybody's faces. Everybody is asking, `Have you heard from your child yet?"' Murray said.
On Twitter, Florida Gov. Rick Scott said he has spoken with U.S. President Donald Trump about the shooting, and that both will receive briefings and updates from law enforcement. Trump tweeted: "No child, teacher or anyone else should ever feel unsafe in an American school."