Falklands angry with National Geographic; demands apology to the Islands and its people
Friday, February 16th 2018 - 09:35 UTC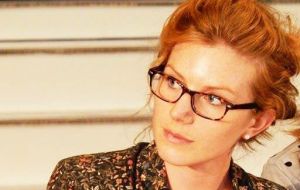 Anger has been expressed in the Falkland Islands this week over a letter which was sent to the Argentine Governor of Tierra del Fuego, Rosana Bertone, by a representative of the National Geographic Foundation. The letter, dated February 8, contains an apology for the appearance of the label 'Falkland Islands' instead of 'Malvinas Islands' on photos published on Instagram, which were taken here.
The Uruguay-based press agency Mercopress has published a photo of the letter, signed by Enric Sala, who is described as 'Explorer in Residence, Pristine Seas, National Geographic Foundation.'
Written in Spanish, it contains a paragraph which translates as: "National Geographic Society at no moment has wanted to disavow the Argentine claim over the South Atlantic islands territory, including the Malvinas Islands. For that reason we have requested those people who manage that social network to remove such publication and rectify the way in which they refer to those islands in the future, so it is respectful of the clearly defined position of the Argentine government."
Spokesperson for the Falkland Islands Legislative Assembly, Teslyn Barkman, said "We were extremely disappointed to hear of National Geographic taking this stance and in effect politicizing the use of these photographs, particularly as these images were taken for an article which could not have been produced without the explicit support of the Falkland Islands Government.
"We have a positive, longstanding relationship with this publication and our community has provided a great deal of assistance to representatives of National Geographic over the years, which is why they will feel strongly that this action is both disrespectful and upsetting.
"We will be writing to the Editor of National Geographic in a representation that will be supported by Her Majesty's Government, to ask them to urgently reconsider their capitulation to Argentine pressure. We will also take the opportunity to remind them of the UN-approved nomenclature and ask for a formal apology to be made to the Falkland
Islands and its people."
Beginning in 1888, with the aim to "to increase and diffuse geographic knowledge" the National Geographic Society was originally an association of academics, who published their first magazine a year later. Now 'National Geographic' has become one of the world's most recognizable brands for what is in effect a global franchise covering television, film, cruising, libraries and a museum, as well as a plethora of publications including the original iconic magazine. While the magazine has retained much of its original format and appearance, the for-profit conglomerate which National Geographic has become has gone through many changes.
The Walt Disney Corporation is its major share holder, having bought out 21st Century Fox in 2017. (Penguin News)