Argentina moves closer to the US in security and crime-fighting policies
Saturday, February 17th 2018 - 09:59 UTC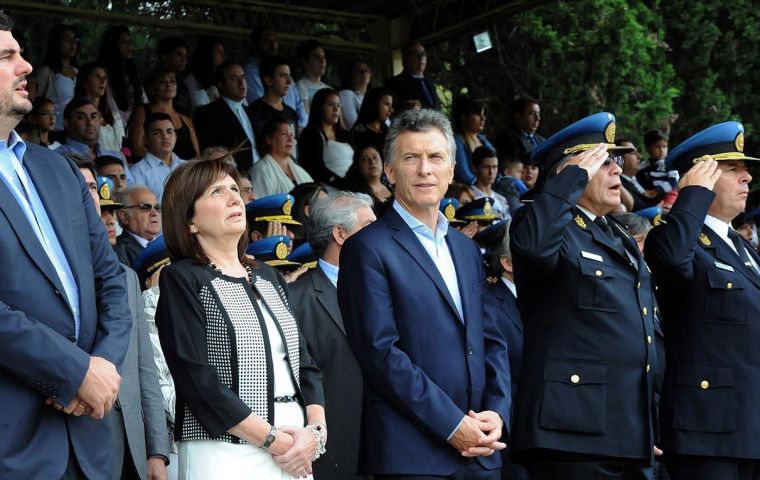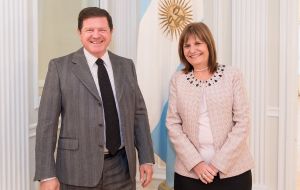 Argentina is taking new steps to solidify its security relationship with the United States, a move that may be aimed at generating support — both political and material — for a shift toward more hard-line domestic crime-fighting policies. In a trip to the United States last week, Argentine Security Minister Patricia Bullrich met with several top US officials to discuss security issues.
In Washington Bullrich met with Republican Congressman Hal Rogers, the Chairman of the House Appropriations Subcommittee on Foreign Affairs, which has an influential role in determining security assistance funding.
Bullrich also attended meetings with senior officials from the Drug Enforcement Administration (DEA), the Federal Bureau of Investigation (FBI), and the Department of Homeland Security (DHS) to discuss deepening law enforcement cooperation between the two nations.
The response from US agencies to the Argentine overture was generally positive. Following the meetings, Bullrich announced a plan to establish a task force to monitor Argentina's troubled northeastern border with help from the DEA.
Bullrich then flew to South Florida, where she met with officials from the US Southern Command (SOUTHCOM), the military body responsible for operations in Latin America and the Caribbean, to seek closer collaboration on security challenges.
"We want a plan that involves us," the minister said in comments reported by the Argentine media. Allegedly SOUTHCOM agreed to provide logistical support, technical assistance and training to Argentina as it gears up to host a major international economic summit later this year.
The meetings followed the recent signing of a new US-Argentine agreement to combat terrorist financing operations.
Argentina's security relationship with the United States has been growing closer since late 2015 when President Mauricio Macri took office promising to take a harder line against crime, which he began to do shortly after his inauguration.
In part, this development is related to Macri's goal of increasing Argentina's influence on the regional stage. And in part, it is related to genuine shortcomings in Argentina's ability to deal with complex security challenges such as those related to organized crime.
However, the latest round of outreach to the United States comes against the backdrop of a push by Argentine officials to give further leeway to police to use deadly force in the course of their duties.
Earlier this month, Macri personally congratulated a police officer who fatally shot in the back a fleeing suspect who had attempted to violently rob an American tourist in Buenos Aires. Bullrich also vocally defended the officer, and advocated changing the law to make it harder to prosecute police who use deadly force.
"Our philosophy is that the police in the streets who pursue criminals under the law … we're not going to abandon them to judicial interpretations that could convict them for doing their jobs," the security minister said in comments reported by local press.
The proposal was met with rebuke by human rights experts, who said the government's support for increased use of force could give police "carte blanche" to commit deadly abuses.