Falklands' second scheduled flight proposal presented to Paraguay foreign ministry
Wednesday, February 21st 2018 - 10:15 UTC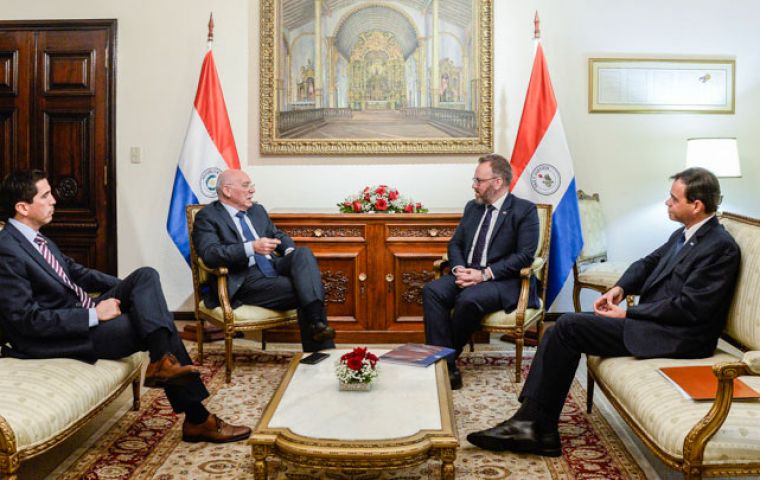 The United Kingdom and Argentina presented on Monday to the Paraguayan foreign ministry a joint letter requesting assistance in contacting airlines in the country that could be interested in establishing a new scheduled air service to and from the Falkland Islands.
The joint letter, which was agreed by UK and Argentina, was delivered to foreign minister Eladio Loizaga by UK ambassador Matthew Hedges and Argentine ambassador Hector Lostri.
Last week the Falklands government made public a release on the initiative of a new weekly scheduled air service to third countries, calling for interest responses from eligible airlines by the end of February, when a commercial process will be initiated led by the Falklands government.
Falklands will evaluate viable proposals from interested airlines and undertake negotiations, with the objective of securing one additional flight per week, including a monthly stop in Argentina, once in each direction, before the end of 2018. This will complement the existing weekly LATAM flight to and from Chile.
A similar letter was also jointly released to Brazil, Chile and Uruguay. Falklands are intent in a more fluid relation with its neighbors creating a confidence climate, increasing trade, tourism and peoples' contacts.
Falklands hopes that the final contract negotiations will be completed over the winter months, with the new air link due to become operational in October 2018.