Falklands' new patrol vessel starts her long journey to the South Atlantic
Thursday, February 22nd 2018 - 07:45 UTC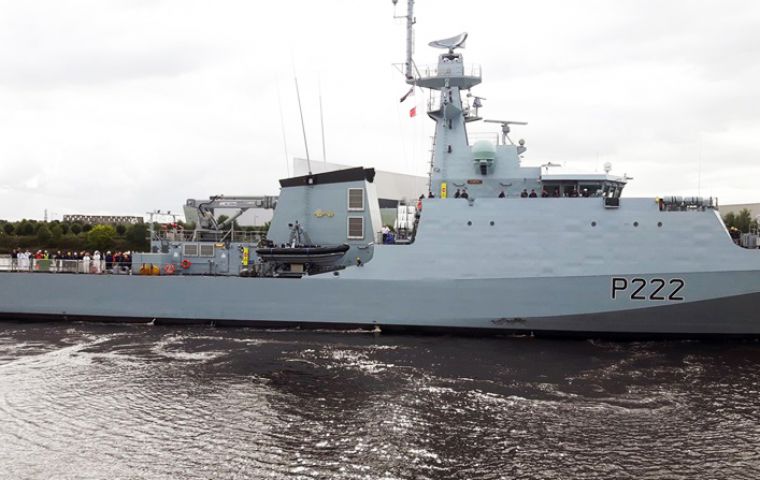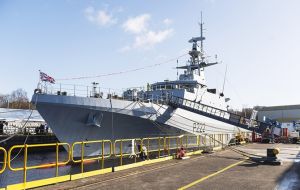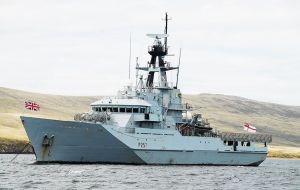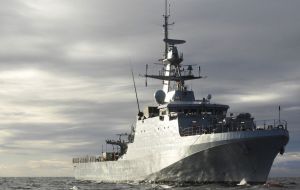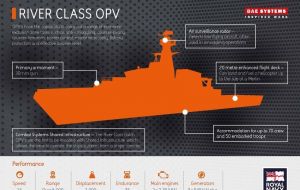 The first of the Royal Navy's next-generation patrol ships set sail from Glasgow on Wednesday for her home port of Portsmouth. HMS Forth is the first of a class of five state-of-the-art Royal Navy vessels, designed for counter-piracy, anti-smuggling, fishery protection, border patrol, counter terrorism and other maritime defense duties.
They will become the RN's eyes and ears around the UK, help to safeguard fishing stocks, reassure and protect Falkland Islanders and, if necessary, deploy to the Mediterranean, Caribbean and elsewhere to safeguard UK's physical and economic interests around the world.
HMS Forth is scheduled to replace the Falklands' Patrol Vessel HMS Clyde later this year.
Commanding Officer, Commander Bob Laverty, said: "This is a really exciting time for the Royal Navy with Forth set to follow the flagship aircraft carrier HMS Queen Elizabeth into Service as part of the extensive shipbuilding program which is making us future ready in our ability to continue to keep peace protect our interests and those of other nations at sea in the years to come."
Designed for a total crew of just under 58, but requiring just 34 to go to sea, she can spend up to 320 days a year on operations. The larger crew allows a rotation of personnel to ensure they get to spend time at home or on training.
The ship departed BAE Systems in Scotstoun following an extended period of sea trials which began in August 2017 and has honed the ship to its current state where it is ready to be handed over to the Royal Navy, which will take her onto the operational stage of her life.
Henry Parker, Director Ships Acquisition for Defense Equipment and Support, the MOD's procurement organization, said: "To see HMS Forth, the first of the new Offshore Patrol Vessel fleet, leave the Clyde shipyards for the final stages of her journey into service is a proud moment for the DE&S delivery teams and our partners across the Royal Navy and industry.
"The OPV program, by providing world-class warships for the Royal Navy and developing the skills which are now delivering the Type 26 program, is vital to the Royal Navy and its mission to protect the UK and her interests."
Although classed as Batch 2 River-class offshore patrol vessels, Forth and her sisters - Trent, Medway, Tamar and Spey - are a significant upgrade on Tyne, Severn, Mersey and Clyde, which were designed and built 15 years ago.
HMS Forth will enter Service this year, while the remaining four ships are all expected to arrive by 2020. They're four knots faster at 24 knots, will have a range of 5,500 nautical miles, carry a 30mm automatic cannon instead of 20mm main gun, two Miniguns, four machine-guns and two Pacific 24 sea boats.
Each ship is equipped with a flight deck (only HMS Clyde of the first generation craft can host a helicopter) and there's accommodation for up to 50 troops/Royal Marines to support operations ashore if needed. Junior Ratings share six-berth cabins - as on Type 45 destroyers; Senior Rates and Officers will live in two-berth en suite cabins.
HMS Forth, which is affiliated to the historic city of Stirling, also borrows many of the first batch's features - which were revolutionary in RN ships at the time: fixed fire-fighting systems across much of the ship, a computer-controlled machinery monitoring system.