Macri's ¨coffin¨ and insulting songs MMSOB, the latest fad in Argentine football stadiums
Monday, March 5th 2018 - 09:09 UTC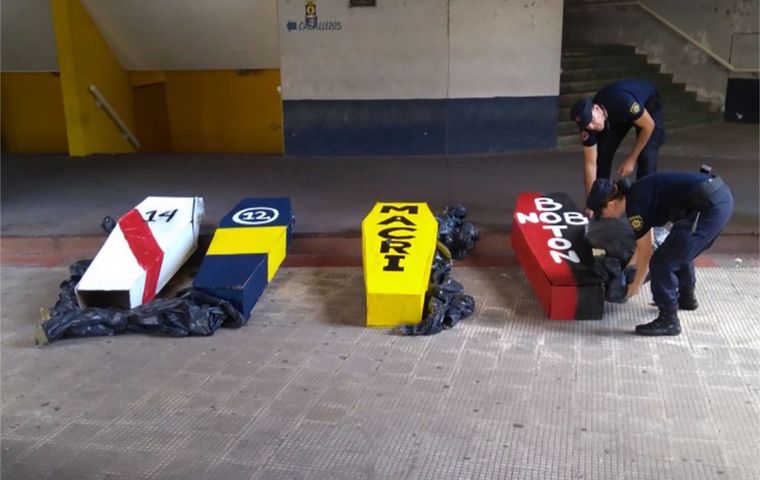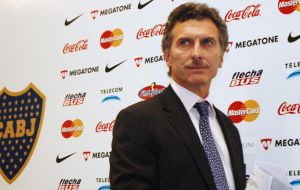 The police of Argentina's second city, Rosario seized four cardboard "coffins" one of them with the name of president Mauricio Macri, before a football match of the Argentine premier league, involving one of the city's leading teams Rosario Central.
The police found the "coffins" identified with the colors of the Argentine football teams of Boca Juniors, River Plate, Newell's Old Boys, the other great team of Rosario. Police also discovered one painted yellow with the name of Macri, rather the acronym "MMLPQTP", which refers to the Argentine president's initials MM, plus S.O.B., which, since several weeks, has become an insult voiced by crowds in several major stadiums in leading matches of the country.
Insults against Macri took off following a draw 1-1 between San Lorenzo and Boca Juniors, because of alleged referee errors which privileged Boca, and because Macri is a football fan and ex president of the club from 1995 to 2007, before turning into politics.
To make things more interesting San Lorenzo is the Argentine pope Francis preferred team and while in Buenos Aires would attend matches.
However the insulting singing and cheering rapidly extended to crowds in other football matches to such an extent that the referees association proposed suspending the matches and teams' followers involved. But the Argentine Football Association dismissed the proposal.
Another Argentine political heavyweight and powerful organized labor leader, Hugo Moyano who is confronted with Macri, also happens to be the president of another major team the Independiente "Reds", and their followers have also enthusiastically picked up the insulting songs against Macri.
Anyhow the board of Rosario Central categorically condemned the coffins incident and the songs and has offered all collaboration with authorities to take to court those responsible.
"We will do everything possible to locate those persons who introduced the coffins. This is not football folklore, it is plan incitation to violence, and we are not part of that game, we strongly condemn it", said Rosario Central president Raul Broglia.