Beijing anticipates 6.5% growth, steady rise in foreign trade and prudent and neutral monetary policy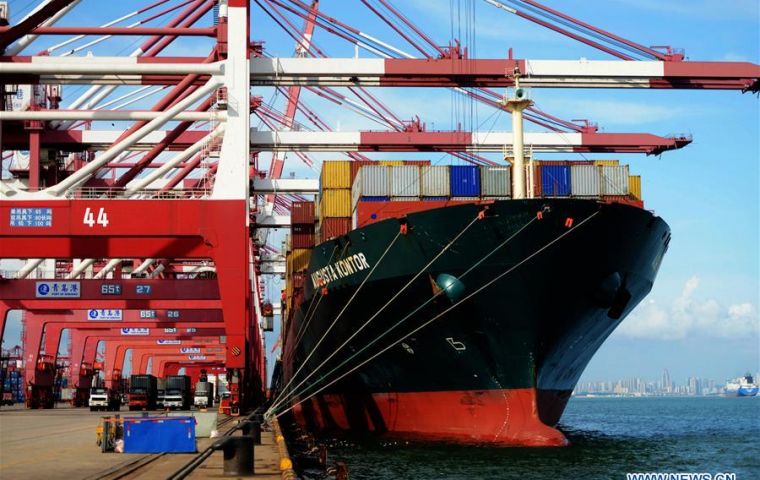 China aims to expand its economy by around 6.5% this year, the same as in 2017, while pressing ahead with its campaign to reduce risks in the financial system, Premier Li Keqiang said on Monday. The goal was kept unchanged even though the economy grew 6.9% last year and exceeded the government's target.
Economists had already expected the world's second-largest economy to lose some momentum this year as the government deepens its push to contain a build-up in corporate debt, while a war on pollution and a cooling property market weigh on its manufacturers.
Reinforcing views that Beijing's attention remains firmly fixed on credit risks and better quality growth, when Li unveiled the GDP target he omitted previous wording saying growth could be "higher if possible."
In his annual work report, Li also said China has cut its budget deficit target for the first time since 2012, suggesting Beijing will be more watchful of fiscal spending while not tapping the brakes so hard that it risks a sharper slowdown.
However last week's escalation in trade tensions with the United States has jumped to the top of the list of uncertainties facing China this year.
President Donald Trump said he would impose hefty tariffs on imported steel and aluminum to protect U.S. producers, risking retaliation from major trade partners like China and sparking fears of a global trade war.
Li said China opposes protectionism and supports the settlement of trade disputes through negotiation, but will "resolutely safeguard" its legitimate rights and interest.
Yet, China will keep its Yuan currency basically stable, Li said in remarks to the opening of the annual meeting of parliament. He said a steady rise in import and export volumes can be expected this year, a view unchanged from a year ago. No export target was given for the third straight year.
"The policy changes of the major economies and their spillover effects create uncertainty; protectionism is mounting, and geopolitical risks are on the ascent," Li said.
China's economic and financial risks "are generally under control" but more needs to be done to resolve issues such as local government debt, Li said. He also said China will improve supervision over shadow banking, internet finance and financial holding companies, and step up risk controls at financial institutions.
Li also reiterated that China will keep its monetary policy "prudent" and "neutral", neither too loose nor too tight, and will maintain reasonably steady liquidity, he said.
While the central bank has been gingerly raising money market rates to discourage riskier lending practices, it has also kept markets well supplied with funds when there are worries of a deeper cash squeeze, and bank lending hit a fresh record last year.