Major UK/Moscow diplomatic row in the making: nerve gas was used in murder attempt in Salisbury
Thursday, March 8th 2018 - 09:10 UTC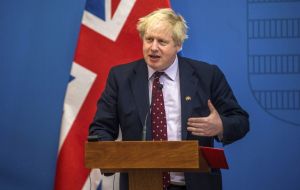 British Home Secretary is to make a Commons statement on the Salisbury poisoning mystery amid calls for a police investigation into 14 suspicious spying-related deaths in recent years. Amber Rudd will report to MPs on the dramatic disclosure by Scotland Yard that Sergei Skripal and his daughter Yulia were poisoned with a deadly nerve agent and targeted in an attempt to murder them.
Scotland Yard anti-terror chiefs have also revealed that a police officer who was first on the scene when the former Russian double agent and his daughter were discovered is now also fighting for his life in hospital.
In a tweet on the eve of her statement, the Home Secretary said: "I want to express my heartfelt thanks to the emergency services for their bravery and professionalism in continuing to deal with the incident in Salisbury.
"My thoughts are with all those affected, including the police officer who is being treated in hospital."
Earlier, following the shock announcement by the Met's anti-terror chief, Assistant Commissioner Mark Rowley, Foreign Secretary Boris Johnson said the events in Salisbury were "very troubling".
Speaking at a news conference at the Foreign Office alongside the visiting Saudi Arabian Foreign Minister, he was asked if the latest evidence meant it was now time to call in the Russian ambassador.
He replied: "If this does turn out to be in any way the result of hostile activity by another government, or directed, led, by another government, then the people of this country can be absolutely sure that the UK will respond robustly."
As the poisoning crisis escalates with more alarming disclosures, the Home Secretary will face renewed demands from Yvette Cooper, who chairs the Home Affairs Select Committee, and other MPs to order an inquiry into earlier unexplained deaths.
In a letter to the Home Secretary, Ms Cooper said 14 deaths that have not been treated as suspicious by the UK police, but have reportedly been identified by United States intelligence sources as potentially connected to the Russian state.
The former Labour Cabinet minister claims a review by the National Crime Agency of all these cases and the decisions made on them, in light of the latest developments from Salisbury, would be a prudent course of action.
Senior Home Office sources are playing down speculation that the Home Secretary will use her Commons statement to announce an inquiry, saying it is "too soon", though they acknowledge it is under serious consideration.
Amid a mood of shock and alarm in his constituency, Salisbury MP and junior Treasury minister John Glen, appealed to the public in the cathedral city to do all they can to help the police investigation.
"Very concerned to hear the latest information from @metpoliceuk that a police officer on the scene in Salisbury on Sunday is now in a serious condition at the hospital," he tweeted. "And the confirmed use of a nerve agent against my constituents is deeply troubling.
"Salisbury residents should be reassured that Chief Medical Officer Dame Sally Davies has said there is a 'low risk to the public' and that all sites thought to have been visited in the incident on Sunday have been secured.
"If you were in the centre of Salisbury on Sunday afternoon and have information that could be useful to the investigation please call 999. If you have any relevant images or video footage please send to http://ukpoliceimageappeal.co.uk."