China names an emperor for life: how imperialist the change will be?
Monday, March 12th 2018 - 09:18 UTC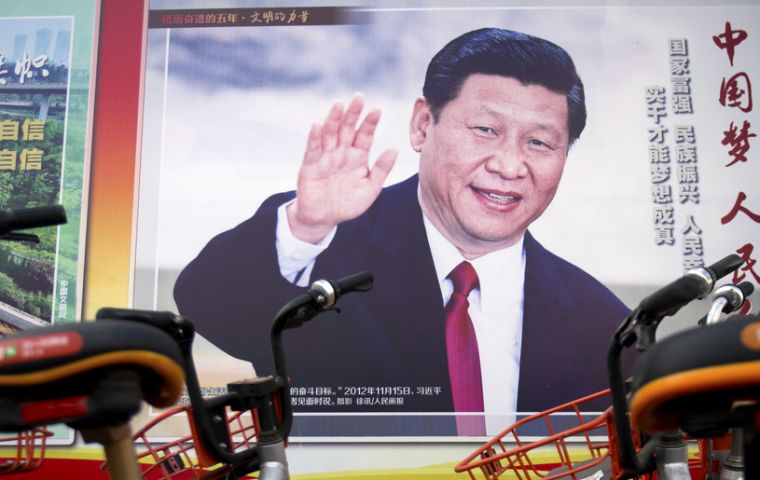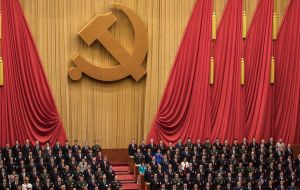 In the short space of two weeks, China has announced and now voted with near unanimous approval to amend the country's constitution and give the party state's powerful leader Xi Jinping a mandate to stay in office indefinitely. On Sunday, a controversial amendment to scrap a two-term limit on the office of the president was approved along with 20 other changes.
The amendments passed smoothly in the largely rubber stamp National People's Congress with only five dissenting votes. Of the nearly 3,000 delegates to the congress, 2,958 voted in favor.
The decision to scrap a two-term limit to the president's term in office was divulged to the public only in late February, but the Communist Party has quickly been working on a narrative that the decision was in the works for months and the changes have widespread public approval.
This despite the fact that discussion of the topic has been banned on social media and the government has taken swift measures to silence even the smallest amount of discontent.
Communist Party leaders argue changes to Article 79 of the constitution are necessary because other key positions Xi holds as party chairman and head of its Central Military Commission have no term limits. By doing away with the term limits, the argument goes, changes will ensure China maintains continuous strong leadership at a time when crucial reforms are on the horizon and the rising superpower is at a critical stage in its economic development.
Speaking after the amendments were passed, NPC official Shen Chunyao said the decision to scrap presidential term limits has a broad consensus nationwide.
"The trinity of China's leadership, the head of the party, military and country suits our national conditions and is realistic," said Shen, who heads the NPC's Legislative Affairs Sub-Committee. "It is a successful arrangement that we [the party] have explored and developed over a long period of time."
Shen did not say why Xi needs to stay on beyond 10 years or even how many terms in office he might serve.
Xi Jinping's predecessors, Hu Jintao and Jiang Zemin also held all three positions, but each stepped down as president and then transitioned to new leadership largely after two terms.
One key concern the Communist Party's argument ignores, however, is the country's history and why the limits were instituted in the first place — to ensure a predictable transition once every decade and to avoid some of the disastrous policy decisions and political turmoil that occurred when China's founder Mao Zedong was in office.
Mao's rule lasted from the founding of communist China in 1949 until his death in September 1976. His violent Cultural Revolution cost the lives of millions of Chinese. Families from all walks of life suffered, including the family of Xi Jinping.
Since Xi came to office, he has launched a sweeping anti-corruption program that has helped clear out rot within the party, as well political rivals some analysts argue. His leadership has been marked with a rapid tightening of controls on society, both online and offline and concerns about human rights abuses.
He has also carried out a crackdown on lawyers and tolerance for dissenting and different views has tightened, even as more Chinese travel abroad and experience other cultures and different political systems.
When asked whether China's leaders were concerned about one man rule and whether allowing Xi to stay in office indefinitely could lead to political turmoil or even situations similar to the Cultural Revolution, Shen called such concerns "non-existent."
"In its more than 90 years of history, the Chinese Communist Party has overcome a series of hardships and a wide range of big problems, questions and difficulties," Shen said. "There will be no turmoil or anything of the like, things will be stable."
Shen also highlighted what he called the legal, political and social foundations that China has built during the past several decades since it began its reform and opening up process, which followed the death of Mao.
But concerns are not likely to go away any time soon and some analysts argue that Xi's indefinite rule will have an impact not only at home, but on Beijing's efforts to grow its influence overseas as well.
The party also amended the constitution to describe the party's leadership as the "the most fundamental characteristic" of Chinese socialism. In other words, the Communist Party is the only party fit to rule China, and with Xi's political thought and goals written into the document as well, he is now unquestionably the country's paramount leader.
Tseng Chien-yuan, an associate professor at Chung Hua University in Taiwan says that under such circumstances, who would dare to challenge or transcend Xi or offer him any advice on national development. And that is dangerous, he said.
"Shall Xi make mistakes in his policy decisions or take a wrong turn on the country's future development, there won't be any mechanism to make corrections beforehand or hold him accountable afterwards. That will put China at great risk," he said. "Today's [vote] has clearly shown that the constitution is used as a political tool to rule the people [and reflect the top leader's political will]".