Catalan leaders ask for no extradition while Carles Puigdemont faces German justice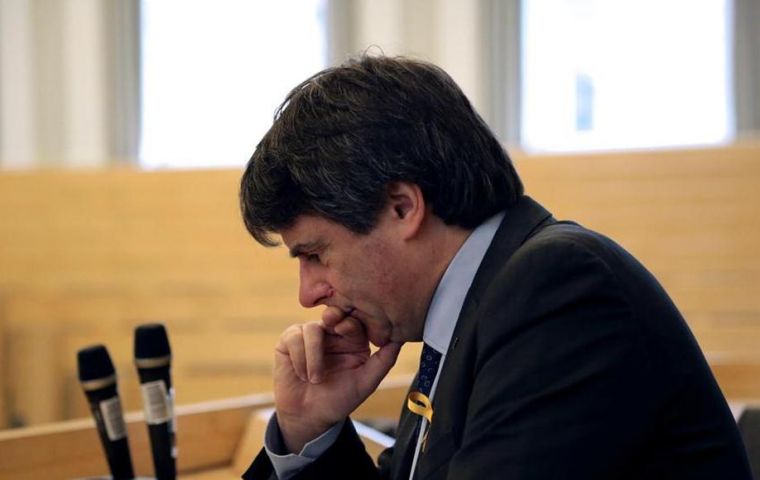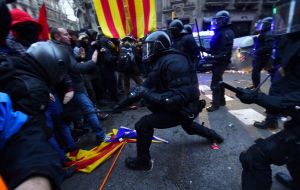 Former Catalan president, Carles Puigdemont will face German justice this Monday. The case expects a cascade of court procedures that could drag on for weeks and supporters of independence of Catalonia have mobilized on Sunday afternoon in Barcelona, causing dozens of injured demonstrators due to clashes with the police.
Puigdemont was arrested on Sunday as he crossed into Germany from Denmark by car. The former president will first appear before a judge in a non-public hearing that will take place in the Town of Neumuenster this Monday. The judge will issue a preliminary ruling on whether he can be held in custody.
Spain issued a European Arrest Warrant when Puigdemont was in Denmark meeting with deputies and addressing a talk in a University of Helsinki. The European Arrest Warrant aims to simplify and speed up extraditions between member states of the European Union.
Catalan independence leaders -members of Junts per Catalunya, ERC and CUP- have participated in the mobilizations that have been convened throughout Catalonia. Some leaders have asked the German authorities not to extradite the former president but the main parties are still studying a joint reaction that has not yet materialized.
The German Justice must decide whether to keep Puigdemont in custody until his extradition to Spain is decided. If the former president accepts it, the deadline is ten days. Otherwise, the decision must be made within a maximum of 60 days. However, a spokesman for prosecutors in Northern Germany has said that there will probably be no decision on the extradition to Spain of Carles Puigdemont this week.
The Schleswig Higher Regional Court will later have to decide whether Puigdemont can be held in custody while the proceedings are pending. Theoretically, there is the possibility that the court decides to release Puigdemont. However, this is not normal, as clarified to El Confidencial a spokeswoman for the Prosecutor General in Schleswig.
Along Catalonia, more than 55,000 people participated in demonstrations and roadblocks on Sunday in protests called after the arrest of Puigdemont in Germany.