Remains of ancient sloth unearthed by landslide in Mar del Plata
Wednesday, March 28th 2018 - 22:08 UTC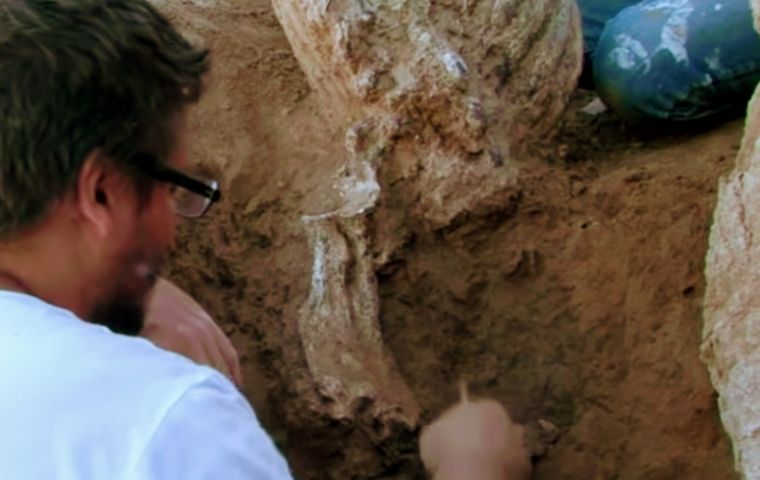 Local natural science museum handles yet a new finding of bones from the Chapadmalalense Age in the area.
Marianela Amaya and Marcelo Lima were taking a walk down Serena beach in Mar del Plata on Argentina's Atlantic coast on Sunday when they came across the remains of a giant sloth, believed to be more than three million years old, it was reported.
In the words of Matias Taglioretti, a specialist from Mar del Plata's Museum of Natural Science, the findings consisted of "the remains of a giant terrestrial sloth which lived in the area three and a half million years ago."
"We found some of the anterior part of the animal with vertebrae, ribs and a hand which has quite a few joints," Taglioretti said. "We hope that, as the work continues, we can recover more fossil remains," he added.
"We came to the beach, we were walking, Marcelo always climbs a little the sand dunes to see if he can find something, and he was the one who found it," Amaya told reporters.
The bones were exposed after a landslide occurred at the cliffs above the beach. The fossils have been cleaned and archaeologists have created papier mache of the giant sloth bones.
It is believed that this species of sloth came from the Pliocene Epoch (5.3 to 2.6 million years ago). The last genus of these giant land sloths eventually died out around 5,000 BC in Patagonia. The coastal cliffs between Mar del Plata and Miramar in the province of Buenos Aires are home to one of the world's largest paleontological sites from the upper Cenozoic era.
Similar discoveries have been reported in the area over the past few years, all stemming from what became known as the Chapadmalalense age.
"For that same moment, a meteorite of 1 km of diameter falls between the coasts of Mar del Plata and Miramar, which provokes after the explosion a rain of molten earth that, when cooled, forms the slag. These slags were present within the collapse block, which is why we can know the age of this former inhabitant of the South American plains," explained Taglioretti.