Brazil's unemployment stubbornly remains above 12%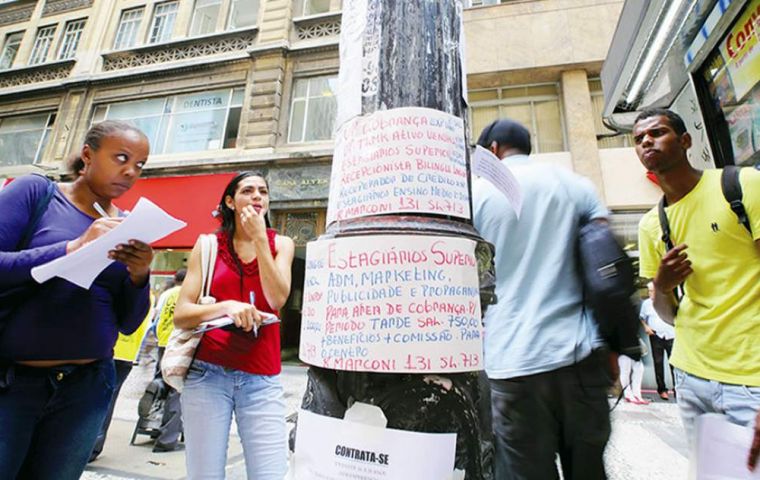 Despite official announcements that Brazil's recession was turning into a mild recovery, the unemployment rate rose to 12.6% in the quarter ended in February, reaching the highest level since mid-2017 and surpassing market expectations of a 12.5% rate, according to the national statistics office.
The unemployment rate in Brazil was at 12.2% in the quarter ended in January and at 12.0% in the last quarter of 2017. From December to February 2017, the unemployment rate was at 13.2%.
The unemployed population in Brazil totaled 13.1 million in the quarter ended in February 2018, 4.4% higher than in the previous quarter (September to November 2017), but 3.1% lower than in the same period a year ago. The Brazilian working population totaled 91.1 million in the quarter, 0.9% lower (1.7 million fewer people) than in the previous quarter and 2% below the same period of a year before.
Workers with a formal contract in the private sector totaled 33.1 million (611 thousand fewer people), down 1.8% from a year earlier and the lowest level since 2012.
In related news Brazil's securities regulator, CVM, said on Monday it was probing possible insider trading at Banco Original, a bank that belongs to scandal-plagued J&F Investimentos, which has been at the center of a corruption scandal.
The regulator will look into transactions in interest rate futures and derivatives that occurred before the release of a plea deal by J&F controlling shareholders Joesley and Wesley Batista with Brazilian prosecutors. The watchdog has already announced investigations into other J&F units.