Cunha, the driving force of Rousseff's impeachment sentenced to 15 years
Tuesday, April 3rd 2018 - 09:20 UTC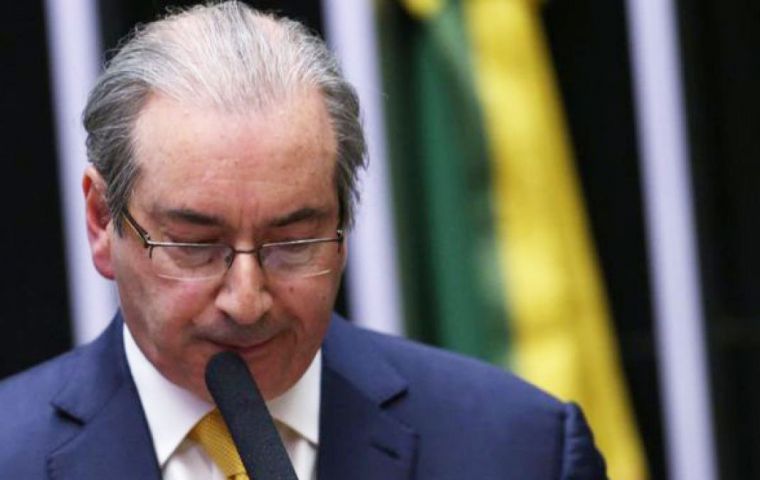 Brazilian court has sentenced the former speaker of the country's lower house, Eduardo Cunha to more than 15 years in prison for corruption. The ex Worker's Party member is the highest profile political conviction yet in the 'operation car wash' scandal.
The former politician's defense team said they would appeal the decision though he will remain imprisoned pending the appeal.
Cunha, who drove the successful impeachment of former President Dilma Rousseff, was forced from his position as speaker in July and arrested in October on accusations he received millions in bribes from the purchase of an oil field in Benin by state-controlled oil company Petrobras.
Rousseff's predecessor Luiz Lula da Silva was charged last year for his role as "maximum commander" behind the same vast corruption scheme.
Cunha's case was sent to crusading anti-corruption judge Sergio Moro, who has been the driving force behind Brazil's fight against graft. Moro has a reputation for ploughing through cases efficiently, with over 98 percent of his convictions in "Car Wash" cases being upheld by higher courts.
Cunha faces another trial for allegedly receiving €4.6 million skimmed from Petrobras contracts for two drill-ships in 2006 and 2007.
To date over 200 people have been charged in the "Operation Car Wash" investigation and the Supreme Court looks poised to extend the inquiry into dozens of other sitting politicians.