Falklands' Loligo squid "doing well" in first month of the fishery
Wednesday, April 4th 2018 - 08:52 UTC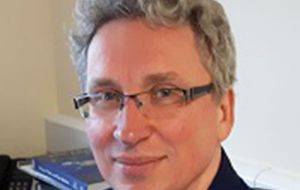 Twenty thousand tons of Loligo squid have been caught during the first month of the fishery, so it is "doing well," the Falkland Islands Senior Fisheries Scientist Sasha Arkhipkin confirmed to Penguin News during the last week of March.
A pre-recruitment survey carried out in February just before the first fishing season found aggregations of quite small squid only in the southern part of the Loligo Box (to the east of Beauchene Island) explained Dr Arkhipkin.
All vessels started to fish there, but in a week dense aggregations of Loligo also appeared in the fishing grounds in the northern part of the Box.
Dr Arkhipkin said all vessels have quite stable catches of 20-40mt of squid per day.
Sizes of squid in the north and south were so different, that it was decided to close the southern area for fishing from March 22 to March 31 due to conservation reasons (occurrence of large quantities of small sized squid - simply to allow them to grow bigger). Fortunately, there is no interactions with seals at the moment as reported in the past.
The Illex fishery is not as stable as that of Loligo. The abundance of Illex this year is average. However, the warm water inflow spread in the northwestern part of the FICZ in March, and Illex squid migrated with those waters as well.
So far, the jigging fleet has caught approximately 32,000 tons of squid. Potentially, there may be a risk in the near future of Illex migrating further south and starting to interfere with the Loligo fishery, as in 2014 and 2015. (Penguin News).