Supreme Tribunal vote on Lula's political future will divide Brazil: calls for calm to avoid social disorder
Wednesday, April 4th 2018 - 08:21 UTC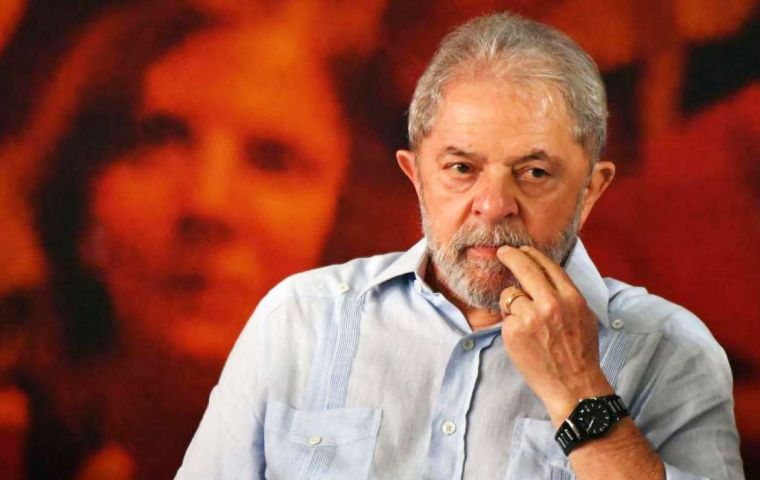 Brazil's top court could rule as soon as this Wednesday whether former President Lula da Silva can stay out of prison while appealing a corruption conviction, a decision that could radically alter October's presidential election in Latin America's largest nation.
Lula da Silva, who was once wildly popular after his two terms as president in 2003-2010, was convicted last year of helping a construction company get sweetheart contracts in exchange for the promise of a beachfront apartment.
The conviction was handed down by Judge Sergio Moro, who is presiding over cases involving the largest corruption scandal in Brazil's history. Moro is hailed as a hero by many while detractors consider him a partisan hit man.
Da Silva has always maintained his innocence, saying this case as well as several other corruption charges that have yet to be tried are attempts to keep him off the presidential ballot. Despite the legal troubles that have angered some Brazilians, Lula da Silva leads preference polls to return to office.
However, Lula da Silva's denials received a blow in January, when an appeals court upheld the conviction involving the beachfront apartment. The three reviewing magistrates even lengthened the sentence to 12 years and one month.
Known simply as "Lula" to Brazilians, he has further appeals available, he could be forced under Brazilian law to begin serving his sentence, which Moro and the other judges have ordered.
At this point, Lula's last and best hope of staying out of jail — and keeping his re-election hopes alive — is the Supreme Federal Tribunal, which has scheduled a Wednesday hearing on his habeas corpus petition. Lula's lawyers argue their client has a constitutional right to stay out of jail until all appeals are exhausted.
In an unrelated case in 2016, the Supreme Federal Tribunal disagreed with that logic, ruling that a convict could start serving a sentence after a first appeal was denied.
How the 11 justices will rule this time is anybody's guess, as the case involves a former president who continues to have a wide following in a deeply polarized nation.
Chief Justice Carmen Lucia earlier this week urged Brazilians to calmly accept whatever was decided. "We live in times of intolerance and intransigence against people and institutions," she said. "For this very reason, this is a time when one must ask for serenity. Serenity so that ideological differences are not a source of social disorder."